What is the Shopify Kiosk
Shopify Kiosk is a unique software that integrates Shopify Shops with Self Order Kiosks System and extends your eCommerce to a Self Checkout Kiosk Store.

Grab'N'Go
Shopify Kiosk Grab'N'Go feature let your customers quickly scan and pay for items on-the-go.

Pickup and Delivery
Order Pickup is a neat feature that allows customers to browse a larger variety of products than the ones you have in-store and order for pickup or delivery.

Browse & Search Collection
On Shopify Self Serve Kiosk, your customers can easily navigate between your departments and product categories. With support for pagination and search features finding exactly what your customer is looking for has never been easier.

Product Variants and Options
The Shopify kiosk supports the use of product variants for varieties of the same product.

Shopify Order Integration
All orders processed through the Shopify kiosk go through your Shopify store directly, just as any online or POS order.

Auto track Inventory
Kiosk orders will update inventories with complete transaction info so you can receive all your reports and analytics in one centralized system.

Faster Checkout
The Shopify Kiosk is designed to support a variety of ordering methods such as Grab'N' Go, Self-Checkout and Online Catalog.

Faster Customer Forms
The Shopify Kiosk is designed to help customers fill out forms for Customer and Shipping Information as quickly and easily as possible.

Related Products & Product Galleries
Specify related products for each product on your Shopify Kiosk to increase upsells. Automatically generates product pages images and videos.

Instant Payments In-Person with Integrated Devices
The Shopify kiosk supports the use of product variants for varieties of the same product just like your online Shopify or Amazon store.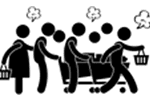 Optimized for High Traffic Shops
The Shopify Kiosk is market-tested for performance at stores that see thousands of customers every week.
Custom Integrations
pleased to offer a great length of custom integration solution for your digital in store advertising content management, omnichannel order management, manufacturing execution systems.

Omnichannel Selling
Shopify Kiosk works 24 hours surround a true omni-channel retail strategy. Now your customers not only can browse a product in-store, but they can also add it to their bag, purchase it right away or order for home delivery.

Age Restricted Shop
The Shopify Kiosk has support for restricting stores by age. This feature is ideal for selling alcohol or cannabis related products on your kiosk.

Price Checking Kiosk
If your Shopify products use barcodes the kiosk can serve as a price checking station for your customers. Simply scan a product at the kiosk and get the latest pricing and inventory availability.

Control Products for the Kiosk
You can make sure to only show or hide certain products and collections on the kiosk vs. your online Shopify store. This makes it easy to restrict which products are available for purchase on the kiosk at any time.

Reports & Analytics
The Shopify Kiosk serves as an additional point-of-sale system in your Shopify store. That means you can use Shopify's incredibly powerful reporting tools to measure the performance and activity at each kiosk and location.