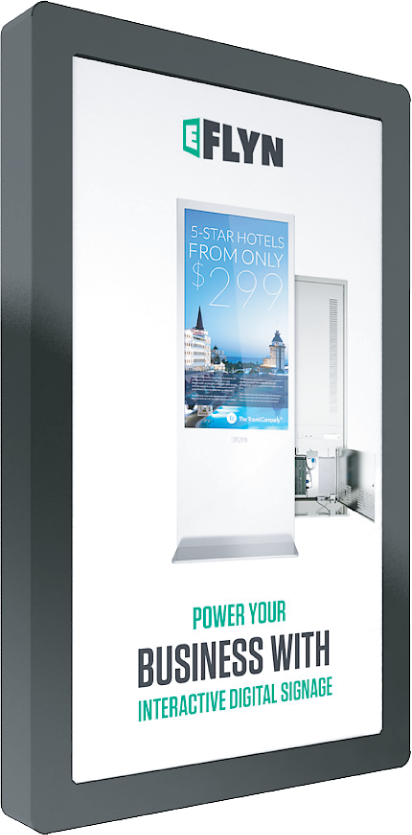 Wall Mountable Multi-Touch Interactive Screens
Digital Signage and Directory
for Businesses
Introduction
The perfect solution for businesses who require a rugged display for heavily trafficked areas. The Eflyn Interactive Wall mountable digital signage is the most reliable, elegant, and flexible commercial touchscreen on the market, with the lowest cost of ownership and highest guaranteed up-times.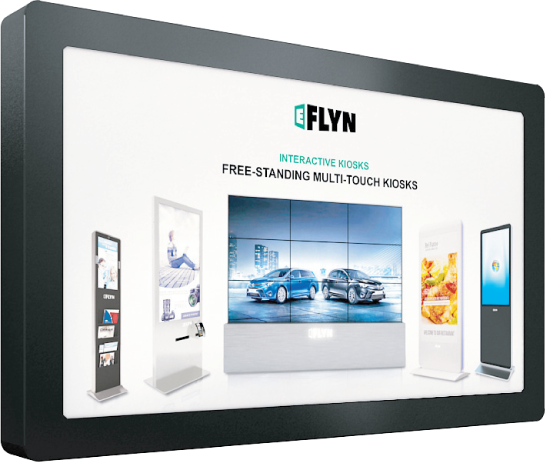 Breakthrough Engineering
Every aspect of the display
is precision-built to deliver
the best experience.

Capacitve Touch Display
Like iPhone, the capacitve
touch screen delivers
superior performance.

Built-In Computer
Access the full power of a
desktop computer, built
intelligently into the display

Commercial Grade
Engineered for commercial
installaton and long-term
strenuous use.
Our Wall Mountable
Displays are made for you.
Eflyn's Wall Mountable Displays are for all interested, mostly targeting businesses and institutions who wish to attract passersby and provide accessible information to those in the vicinity. These Wall Mounted Displays can be a small representation but of big impact for your company.
Our Interactive Multi-Touch Wall Mounted Screens are invitingly modern and slick and would fit perfectly with any business. To help you choose the right one, we have designed and manufactured the Wall Mountable Displays in many sizes for you to choose from.
Mount the display either in portrait or landscape.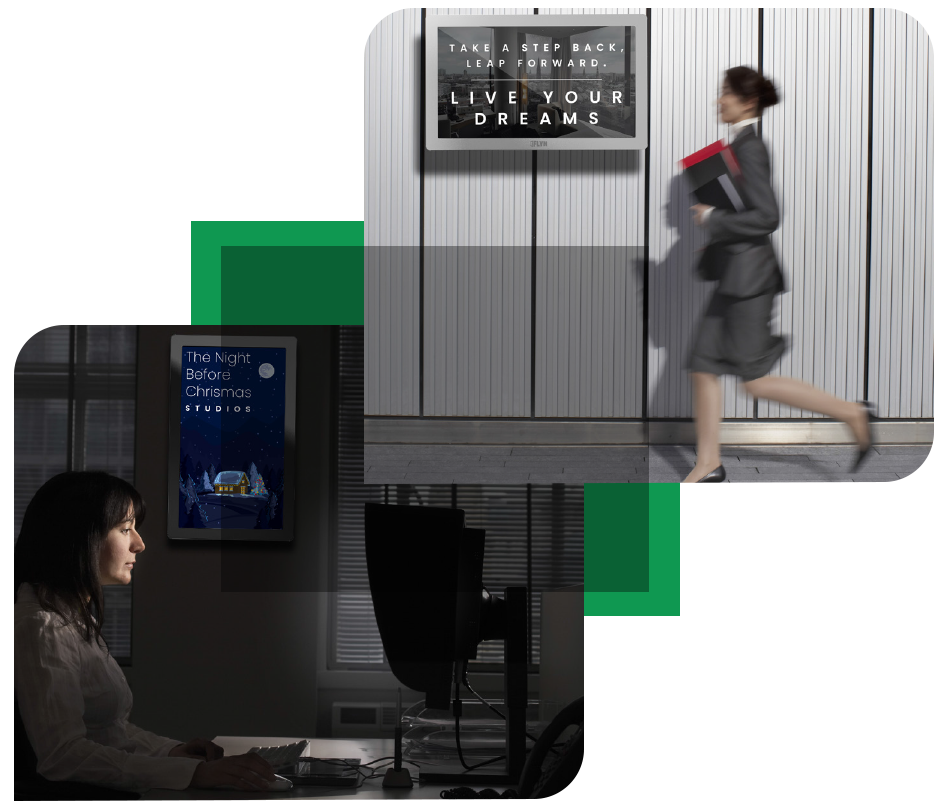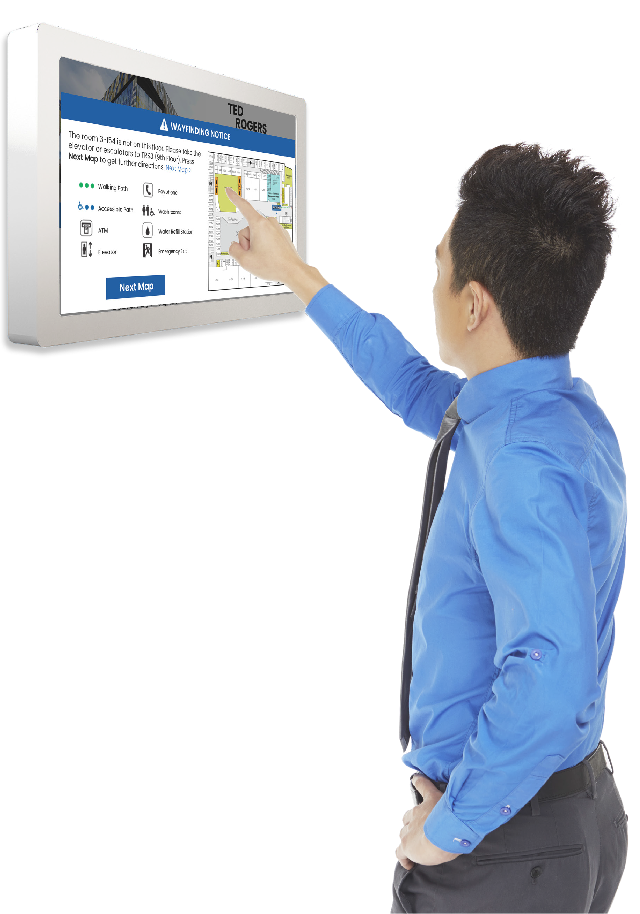 Eflyn Application's with
Wall Mounted Displays
At Eflyn, we can provide you with custom apps and software that can be installed and used on the Wall Mounted Displays. The Interactive Wall Mountable Displays can be used as:
Digital Signage – Which showcases yourmproducts/merchandisethrough videos/images and posters.
Directory Listings – Filled with contact information of a specificindividual, room, title and/or category.
Easyfind Pro – Navigational app which guides guests andpersonnel with animated instructions through the buildingright to their destination.
Socialbooth Pro – Your own digital photobooth.Let customers post photos directly to social media platforms.
Spin To Win – Customizable contest generator that lets youcreate, manage and run competitions and giveaways.Reach customers in a fun and unique way, ready-to-play.
After finalizing an app, we'll even brand it with your company making the Wall Mountable display a part of your identity.

Our Wall Mountable
Displays are made for you.
Regardless of the app you choose, you will have the freedom to create, edit and upload your content immediately through our SAIGON app. Eflyn's SAIGON app is a content management system built for managing your content easily.
If you are faraway, don't fear because SAIGON can be accessed remotely through a PC or laptop with the help of wi-fi connection. Once finished, instantly update all your content to the Wall Mounted Displays like magic. It's as easy as that.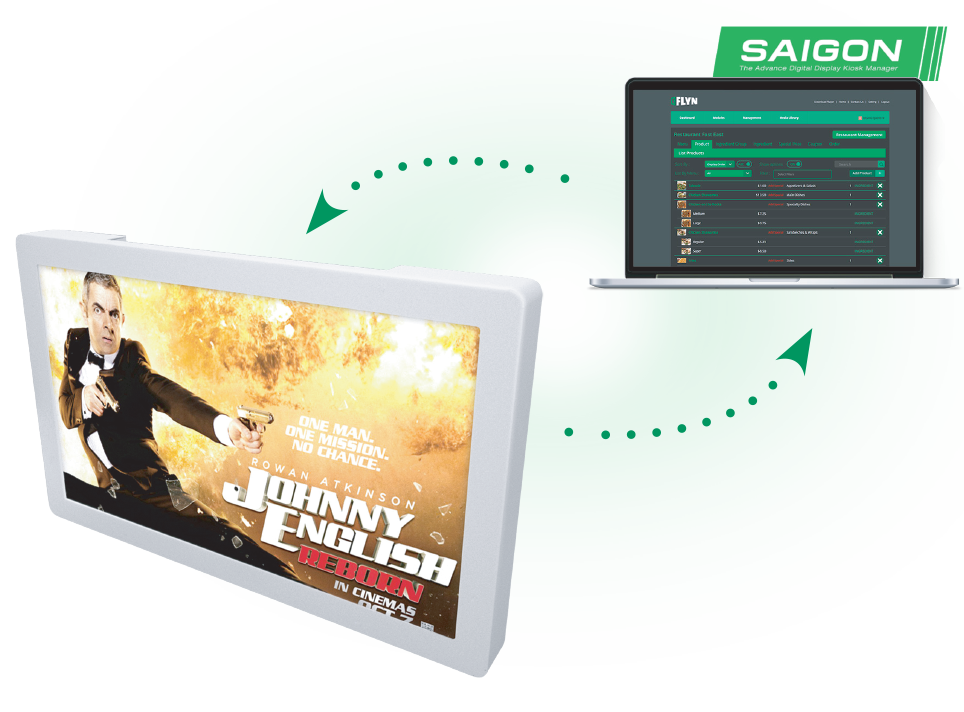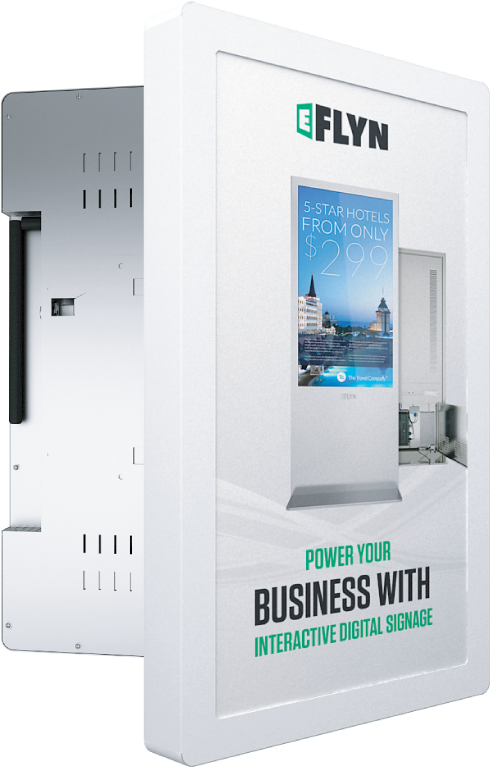 Unit Features
Fully Interactive Multi-Touch Screen
802.11 b/g/n WIFI
Windows 10 or Android Operating Systems
Built with 6mm Tempered Glass and Commercial LCD display
Mounting by VESA standard for flexibility of installation
Mount on wood or concrete
Rugged vandal-proof stainless steel housing with simple design
Secure equipment vault with key/lock for I/O interface and USB ports
Application Features
Remote display management via LAN/Internet remote updating of media fles and playlists
Support for Video and Images in all formats
Access to thousands of apps built for Android and Windows OS
Interactive Directory Listings
Use with Eflyn's line of marketing apps:Socialbooth Pro, Spin To Win, Saigon CMS andEasyfnd Wayfnding software
Optional 3G / 4G Internet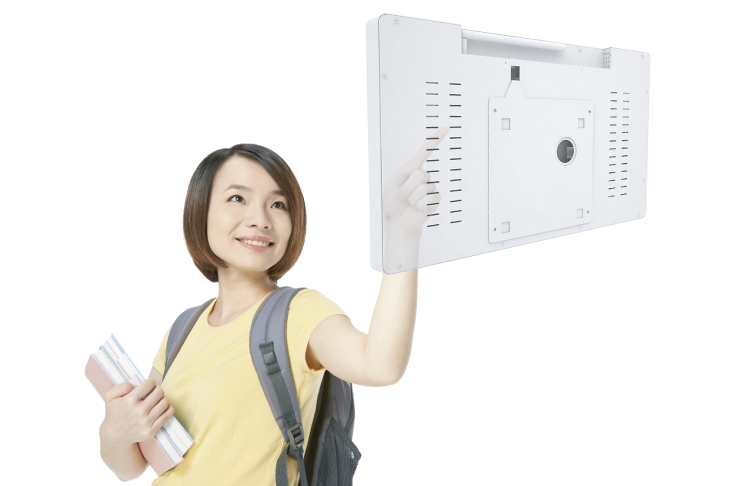 ETHERNET, HDMI, USB, POWER ON/OFF
Our displays comes with ports such as ethernet, HDMI, USB and power on/off reboot buttons. All inside a secured window with key and lock.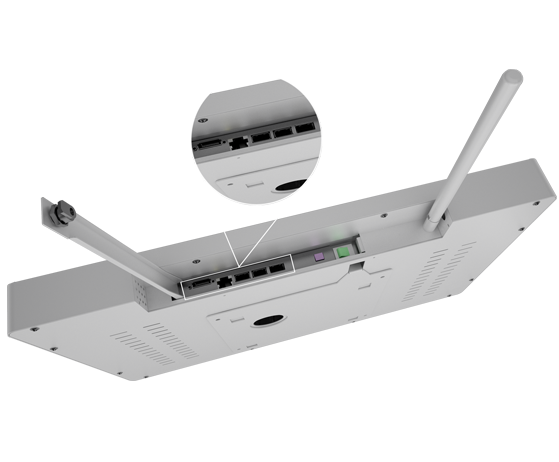 Air Vents
Display comes with industrial Air Vents to keep the processor cool and make it run for 24/7/365 days a year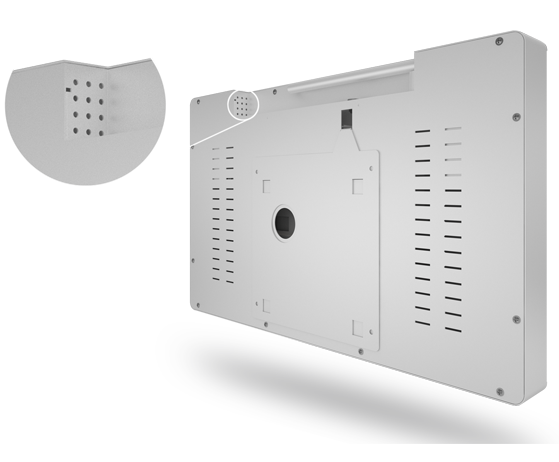 Wifi Antenna
These displays comes with a powerful and hidden WIFI antenna.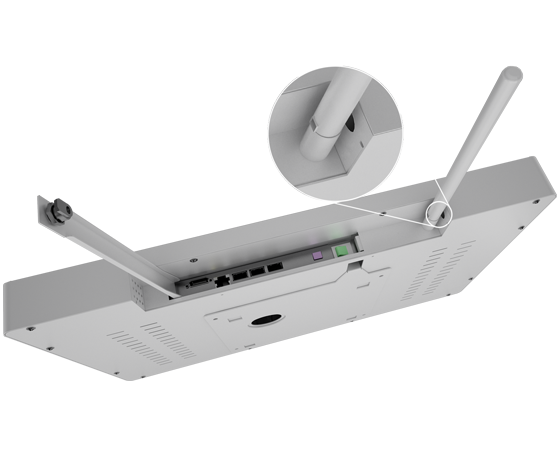 Secure locks
Our displays are made to be used in public areas. The only access area that is available is secured with a unique key and lock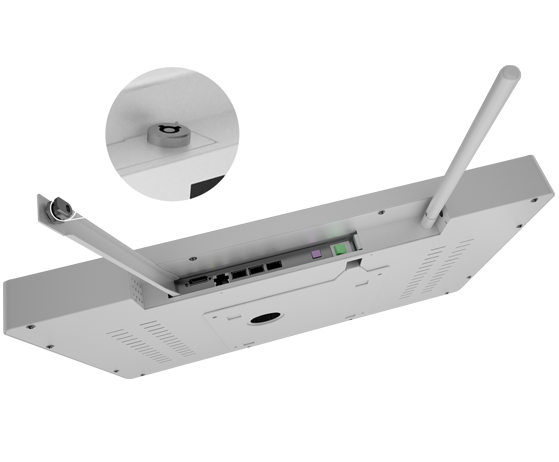 Hole for cables for a flush to the wall installation
We have designed the back cover of our wallmounts with hole in the back to help you with a complete level or flush to the wall installation.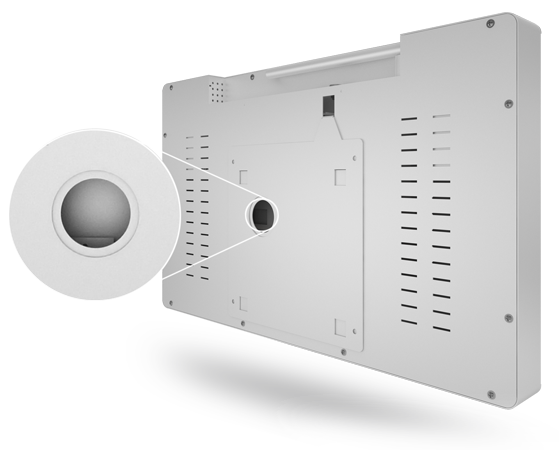 Additional hole for cables
We have also made additional hole in the pocket area for cables. This is well suited when you need the cables to come out from the bottom instead of the back.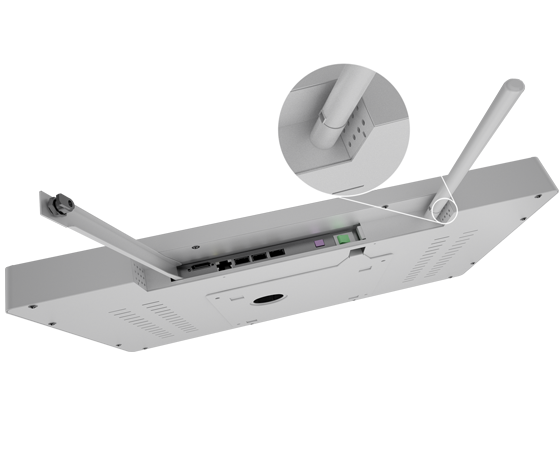 Wall Mountable Interactive
Size Specifications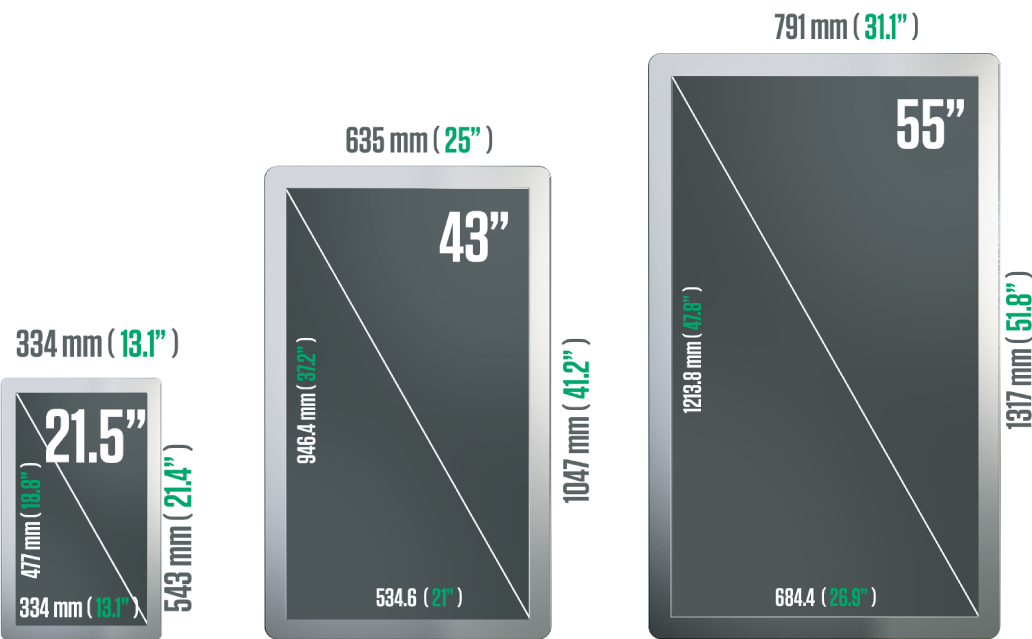 Wall Mountable Interactive
Size Comparison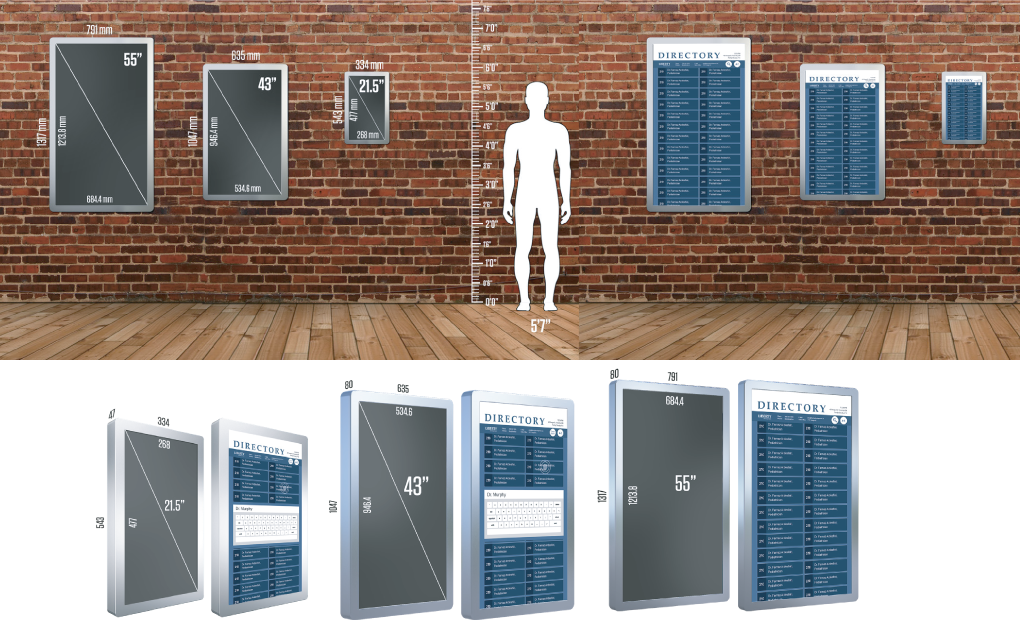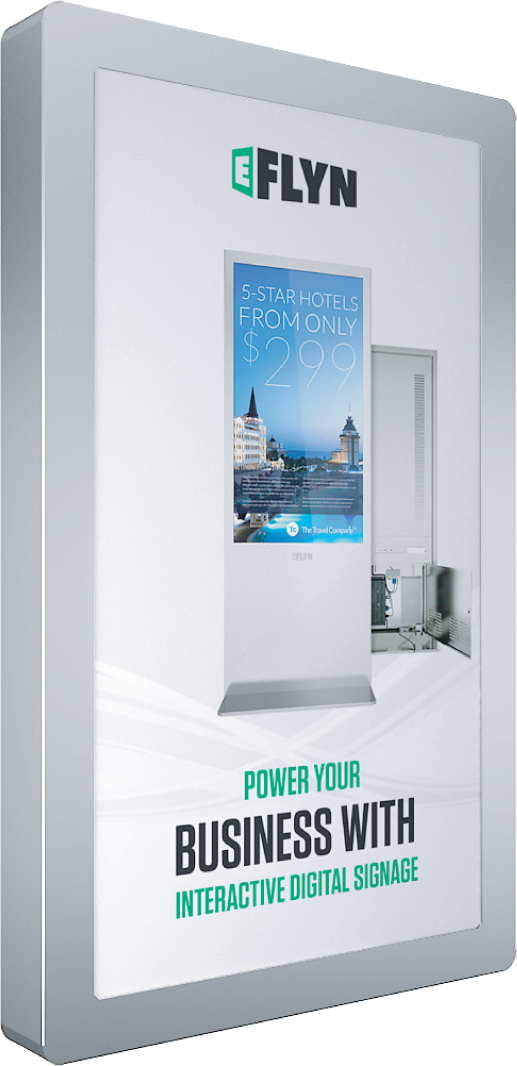 Wall Mountable Interactive
Size Comparison
KIOSK MODEL: Efyn Wall Mountable Interactive Screen
SIZES: 21.5", 43", 55"
OPERATING SYSTEM: Windows 10/ Android Operating Systems
PC SPECS: 120GB SSD, 8GB RAM, i3 (upgrade options available)
SINGLE/DOUBLE SIDED: Single Sided
FEATURES: Secure equipment vault with key/lock for I/O interface and USB ports, wall installation ready, 10 point multi-touch display, stainless steel housing, fully enclosed and secure cabinet.

Meet with an Eflyn Specialist
Bring the power of digital engagement to your business
Want to learn about digital signage? How about self-serve kiosks or setting up your own video wall? Learn from one of our digital engagement experts about the latest in interactive display technologies and software.