21.5″ Self Ordering System
Powerful self order machine in a smaller design.
Increase Revenue, Increase Order Check Size, Improve Order Accuracy, Improve customer satisfaction and ease of use with our Eflyn Self Order Kiosks and POS system.
Contact us today to seamlessly integrate the Self Ordering Kiosk into your business.
Restaurant Kiosks increase sales and eliminate ordering errors
Scientifically-engineered user interface design for the happiest self ordering experience your customers will ever have.
Every detail is looked after to make the entire food ordering kiosk experience as smooth as possible. The order kiosk tap-based interface with easy-to-understand prompts, clear navigation, and menu structure will have your customers using the order kiosk as naturally as a phone.
Eflyn Kiosk Ordering System upsells, cross-sells fast food promotions elegantly presented to maximize customer appeal.

Managers love the sleek new 21.5" model of Eflyn's highly acclaimed self ordering system. This new smaller, mightier 21.5" Self Order Kiosk is exemplary in beauty and power.
45° Screen for Privacy and Accessibility
The 700nits high brightness screen built into the 45-degree housing gives your guests ample space and privacy for kiosk ordering.
Self service ordering kiosk is cheap!
An automated 21.5″ self ordering kiosk cost an estimated $10 a day. It serves your client 16 to 24 hours a day 365 a year with no sick leave, no vacation, and bringing more sales to your business with upsells and pairing recommendations. With the slim margins that restaurants operate with today, a competitive price is essential to success!
Minimum Footprint For Self Service Kiosk Restaurant
The small footprint gives you the opportunity to have multiple units without sacrificing restaurant space.
Bundle it with Eflyn POS for an outstanding fully integrated Self Order Experience

Eflyn ePOS has been engineered with service efficiency in its foundation and exclusively tailored and customized for quick service restaurants. The entire process of order taking is 100% fully integrated.
Take orders on Self Order Kiosks
Take orders with cashier POS
Take orders by ePOS mobile App
Take orders from the table QR code scan
Eflyn offers one of the most state of the art fast food restaurant pos system, seamlessly integrated Cashier POS, 32" or 21.5" Touch Screen Self Order Kiosk, Touch Screen Kitchen Display System (KDS), and a Customer Order status Monitor.
One company to trust. One support team. One fully integrated system.
Customized Self Order Kiosk App
The Eflyn fully customizable self order kiosk fast food app is thoughtfully designed to maximize ease-of-use, increase ticket size, and eliminate ordering errors.
Eflyn self service kiosk pos system increase restaurant food ordering average ticket size by as much as 20% or more with upsells and cross-sells.
Design and deploy custom scannable promotions, all on the self order kiosk and self service mobile app, using the same eflyn food ordering app
Place your prepaid order on Eflyn self serving kiosk or mobile app and the order will be sent to multiple kitchen printers or KDS kitchen display system
Generate smarter reports of the self order kiosk, mobile ordering, cash register, or from table ordering all using Eflyn all in one POS system
Intuitive and user-friendly self order kiosks restaurants user interface (UI) that supports a wide range of menu structures
Eflyn Self Service Food Kiosk System Supports the most popular payment methods. Including cash.
Pay at Table
Your customers can now conveniently pay at the table! Here's how it works with the Eflyn ePOS system.
Generate a QR sticker of your restaurant's unique ordering link using the Eflyn POS system
Stick the QR code on each table in your restaurant
Customer scan the QR Code on their phones and a self order kiosk interface with your menu items will be opened
Customer can browse through the self order interface and once they select the food that they would like to order they can make the payment using Apple Pay, Google Pay or any other credit card
The prepaid order will be sent to the kitchen KDS and on the order status monitor customer can see the order is being made
Once the kitchen staff finished preparing the order they will tap on the KDS that the order is finished and the customer status monitor will update the order status as DONE
Self Order Kiosk will increase your sales, it's fast.
Self service kiosk in a fast food restaurant screams speed. Anyone coming into a fast food restaurant isn't planning to be there for more than 30 minutes, and a quick and easy-to-use self serving kiosk will make sure you don't have any grumpy customers anymore.
Eflyn Self Service Ordering System is Certified for payments in the US and Canada with more countries coming soon. Now supporting Apple Pay.
Eflyn Self Ordering Kiosk System Email & Receipt Template
When customers complete their ordering on the order kiosk, it will print a receipt with their order number and details. Email receipts are also optional.
The receipt template is fully customizable in self service kiosk pos system which is hosted and accessible via a secure web link and can be changed anytime with new messaging and promotions.
Impactful Messaging
Eflyn Self Order Machine is not just a Self Ordering Kiosk System only. It has a built-in digital signage software with hundreds of templates and lots of cool features, you can transform your self ordering kiosk into an impactful marketing tool.
Eflyn Self Order Kiosk Software has everything from branding, colors, backgrounds, and messaging can be customized anytime quickly and easily.
Add a personal touch to your restaurant self ordering system by adding preparation videos, appealing food and drinks, new menu items, and much more.
KIOSK ORDERING SYSTEM IS ACCURATE
How many times have you had to dump an order because the server made a mistake? Self Order Machines don't make mistakes! A kiosk ordering system will ensure that this never happens again, making both, you and your customer happy.
Kiosk Ordering System
Eflyn self service kiosk pos system has a fully built-in reporting database system. Search, filter, and sort all your transactions in the reporting database. You can easily customize, view, and download reports for reconciliation or import into third-party accounting systems.
The kiosk ordering system increases aesthetic appeal!
Let's face it, a fully automated fast food ordering kiosk looks really cool. With restaurants spending thousands of dollars on their interiors and aesthetic appeal, a self ordering kiosk will help in differentiating your restaurant from most other restaurants. With a built-in digital signage application, you can now run your promotions and posters at any time of the day. Eflyn Restaurant Kiosks Systems is a complete end to end solution and increase your restaurant aesthetic appeal. A rapid increase in the millennial generation, self service kiosk pos system may just become your unique selling point.
Pair the top self order kiosk software with the top self order machine.
21.5" Multi-Touch Self Order Kiosk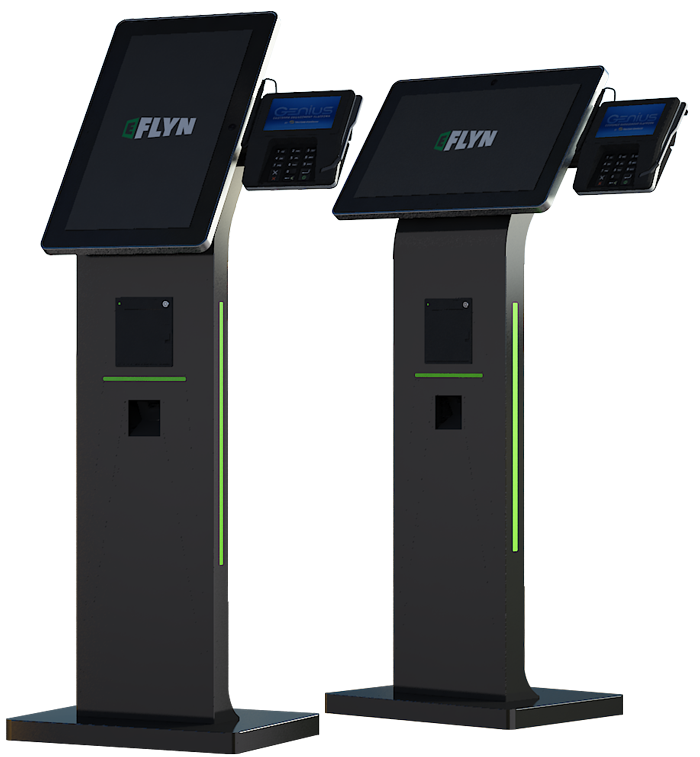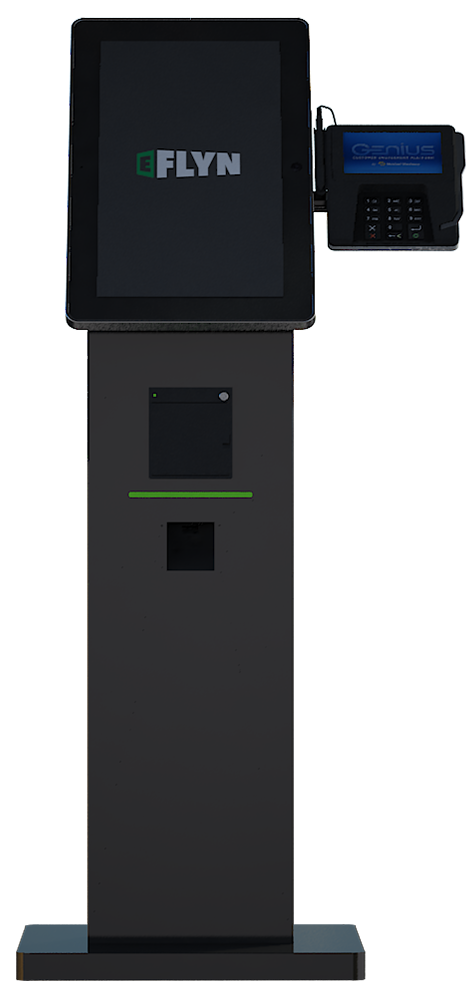 Top 5 Features of the 21.5" Self Order Machine
21.5" Capacitive Touch Screen
Designed for the best and extremely fast paced environment.
Built-In Windows 10 PC
Fully Licensed Windows Operating System.
Universal Payment Terminal Holder
(EMV & NFC Certifed)
Front Loading Industrial Printer
Help you change paper rolls in seconds.
Lock and Key Cabinet
Completely secure cabinet with lock & key.
Front Loading Printer
The Eflyn Self Service Ordering Kiosk front-loading thermal printer is the best solution in the industry for printing receipts.
It supports industry-standard 80mm paper rolls and can easily be reloaded using the front panel, which is secured with a lock and key.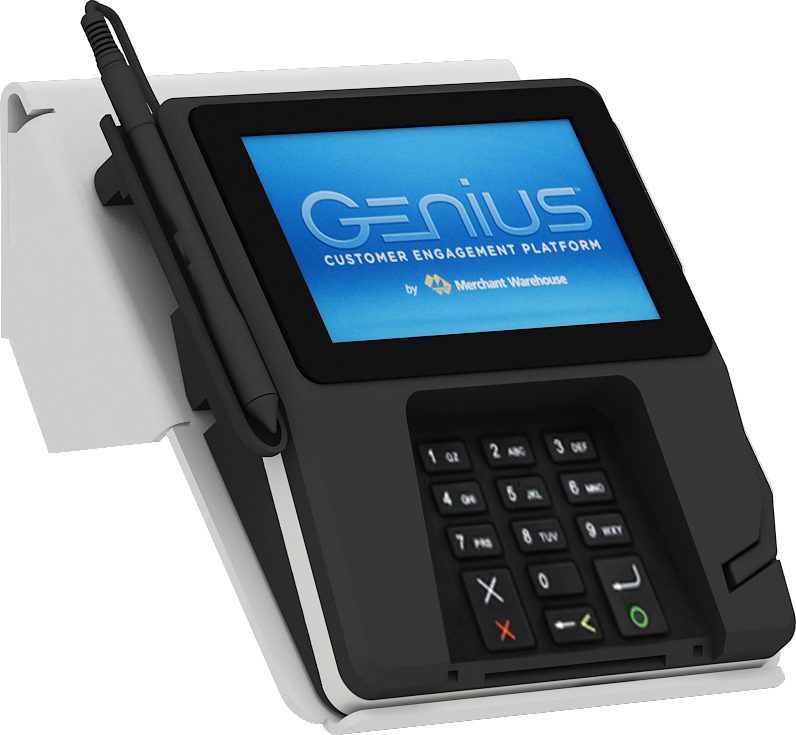 Eflyn Restaurant Kiosk Systems Flexible In Every Way
Universal Pin Pad Mount
Mount any type of payment terminal on the Eflyn self ordering system with our new universal pinpad mount. Supports popular pinpad models such as the Ingenico iPP320/350, Verifone MX-series, TD Generation Pinpads, and many more.
Size Specs of 21.5" Self Order Restaurant Kiosk
Horizontal Orientation (Landscape)
Full Height: 74.4 inches (1890 mm)
Width: 22.2 inches (565mm)
Height of monitor: 11.29 inches (363mm)
Width of monitor : 22.2 inches (565mm)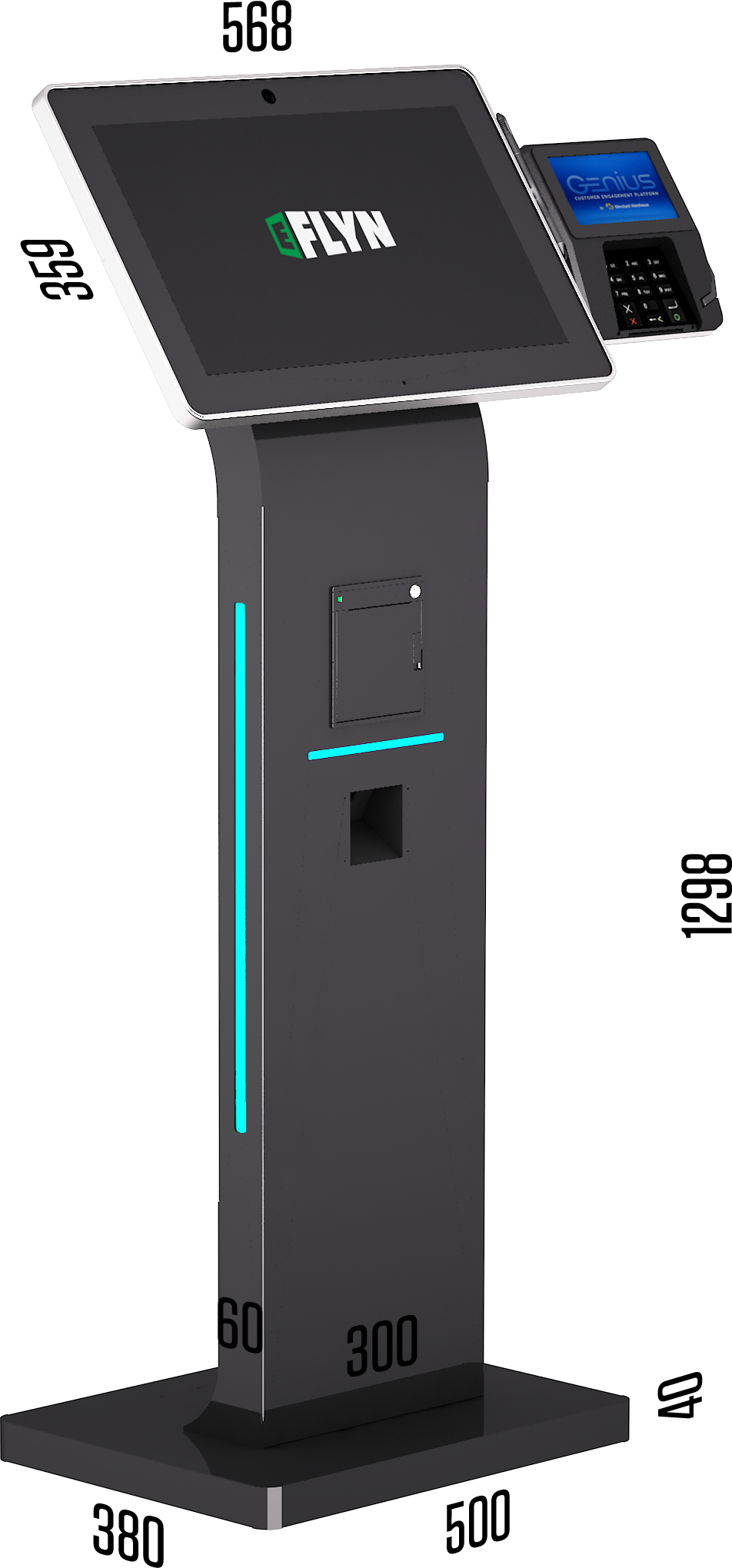 Size Specs of 21.5" Self Order Restaurant Kiosk
Vertical Orientation (Portrait)
Full Height: 74.4 inches (1890 mm)
Width: 11.29 inches (363mm)
Height of monitor : 22.2 inches (565mm)
Width of monitor : 11.29 inches (363mm)
High Performance Computer
Compact Self Order Machine with High-Performance Computer
The new and improved 21.5" Multitouch all in one pc is built with up-to-date components including the latest SSD drives, Intel i5 Processors, and faster memory.
The higher performance leads to more fluid and responsive customer experience, especially for self service kiosks with lots of images and videos.
Public Safety Approved
Anti-Bacterial Screen Protection
All new Eflyn Restaurant Self Ordering System comes coated with the world's best anti-bacterial screen care. This preventative solution is also water-repellant, anti-radiation, scratch-resistant rated for 9H hardness, and does not cause any bubbles on the screen.
Improved and Fast Touch for the fast pace restaurant kiosk
Enjoy our Improved Multi-Touch Screen with Faster Response Time for your restaurant kiosk ordering. The multitouch screen is entirely redesigned to provide a faster response and more accurate touch recognition than ever before.