Buena Park, California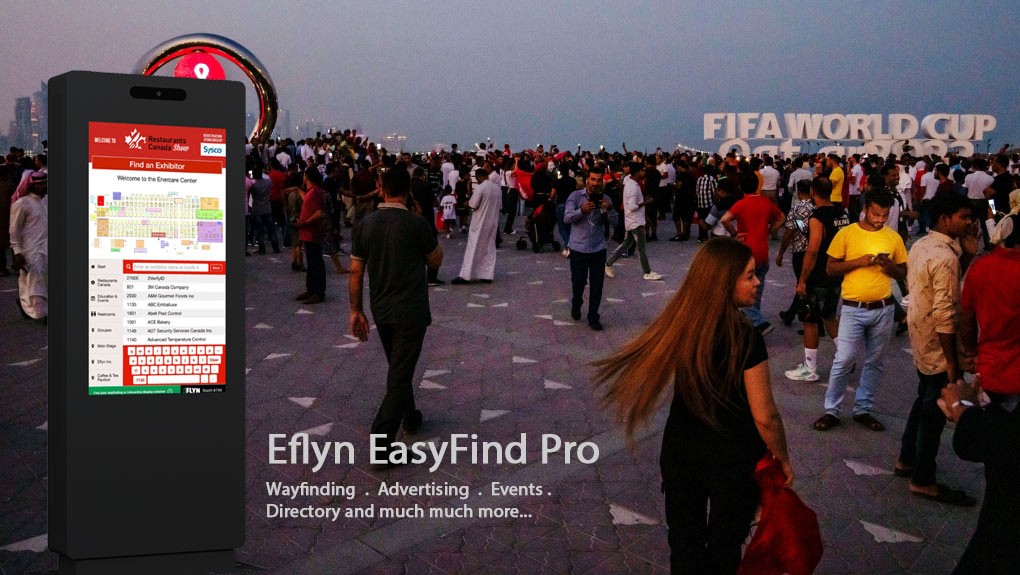 The FIFA World Cup 2026 is set to be one of the biggest sporting events of the decade, and businesses across North America are already gearing up for the influx of visitors and fans. As a digital signage company, EFlyn is proud to offer a cutting-edge wayfinding system for the FIFA World Cup 2026, powered by our EasyFind Pro application.
Our V8 series outdoor IP-65 touch screen digital signage displays are the perfect way to help fans navigate the stadiums, public viewing areas, and other event spaces. With our EasyFind Pro software, fans can access turn-by-turn directions, mobile handouts, and other essential information right from their fingertips. No more fumbling with paper maps or struggling to find the right signage – with our wayfinding system, fans can focus on enjoying the matches and events.
Proper planning, pilot, and soft launch are essential for creating a smart hardware and software solution for the FIFA World Cup 2026. With the right preparation, businesses can ensure that their digital signage displays are fully customized to meet the specific needs of the event. Whether you're looking to showcase sponsor advertising, display real-time scores and updates, or provide wayfinding information, our outdoor touch screen displays and EasyFind Pro software can deliver.
In addition to enhancing the fan experience, EFlyn's digital signage displays can also provide valuable advertising opportunities for businesses. With our customizable advertising options, businesses can showcase their brand or event messaging to a captive audience of fans and visitors. Our displays are designed to be attention-grabbing and impactful, ensuring that your advertising messages are seen and remembered.
Time for custom development is also critical to ensure that your digital signage displays are fully optimized for the FIFA World Cup 2026. By working closely with our team at EFlyn, you can create a customized wayfinding system that meets your unique needs and requirements. From initial planning and design to installation and ongoing support, we're committed to delivering the best possible experience for our clients.
If you're looking to create a smart, reliable wayfinding system for the FIFA World Cup 2026, EFlyn's outdoor touch screen digital signage and EasyFind Pro application are the perfect choice. With turn-by-turn directions, mobile handouts, customizable advertising options, and more, our displays can help you enhance the fan experience and increase brand visibility. Contact us today to learn more about our wayfinding solutions and how we can help you prepare for the biggest event of the decade.