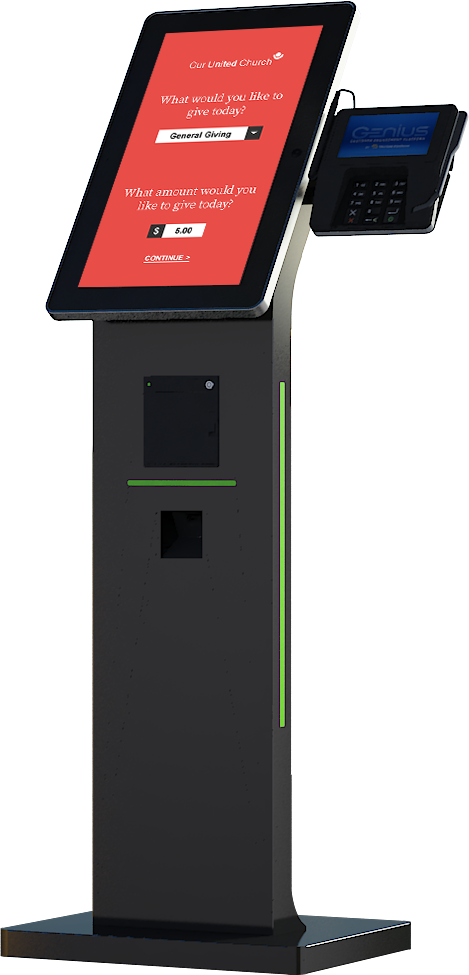 Giving Kiosk
Custom Engagement and Giving Platform for your Place of Worship
Introducing the inspirational power of Giving Kiosks. The Eflyn Giving Kiosk offers each person a simple way to learn more about your mission, donate to specific funds and projects and engage with your content in meaningful new ways.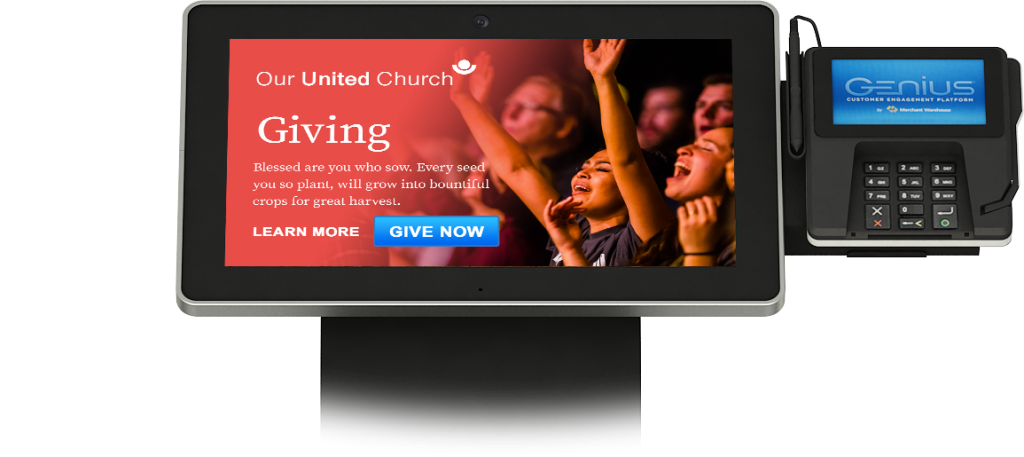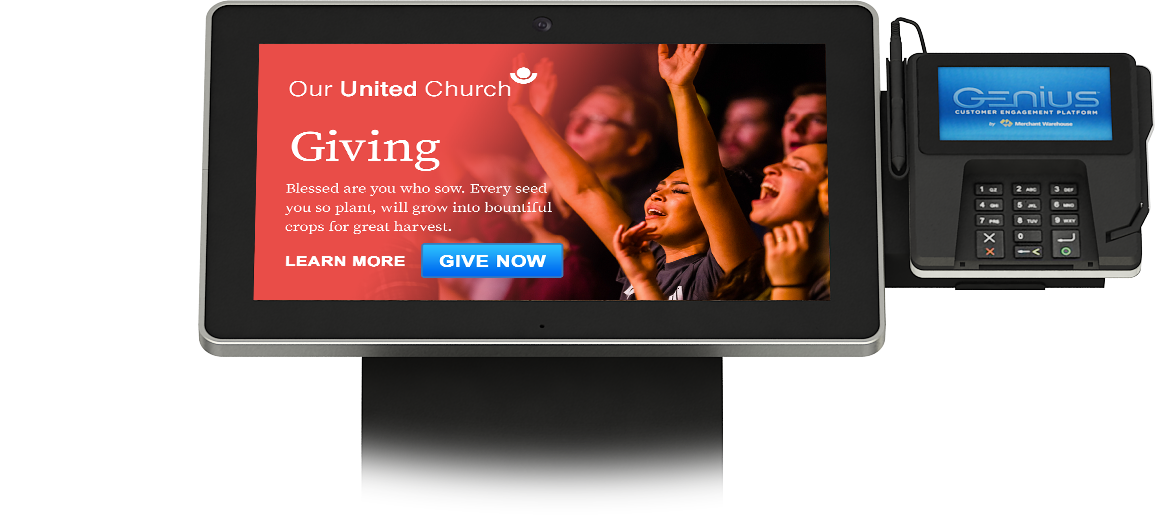 Customized Giving Kiosk App
A detailed and customized approach to maximize the effectiveness of your giving process.
Bridge the Gratification Gap
Maximize encouragement by showing the difference even a small amount can make.
Email and Receipts
A striking balance between asks and delights in your communications.
Impactful Messaging
Add a personal touch by including a video or audio message from your staff thanking your donors for their generous gift.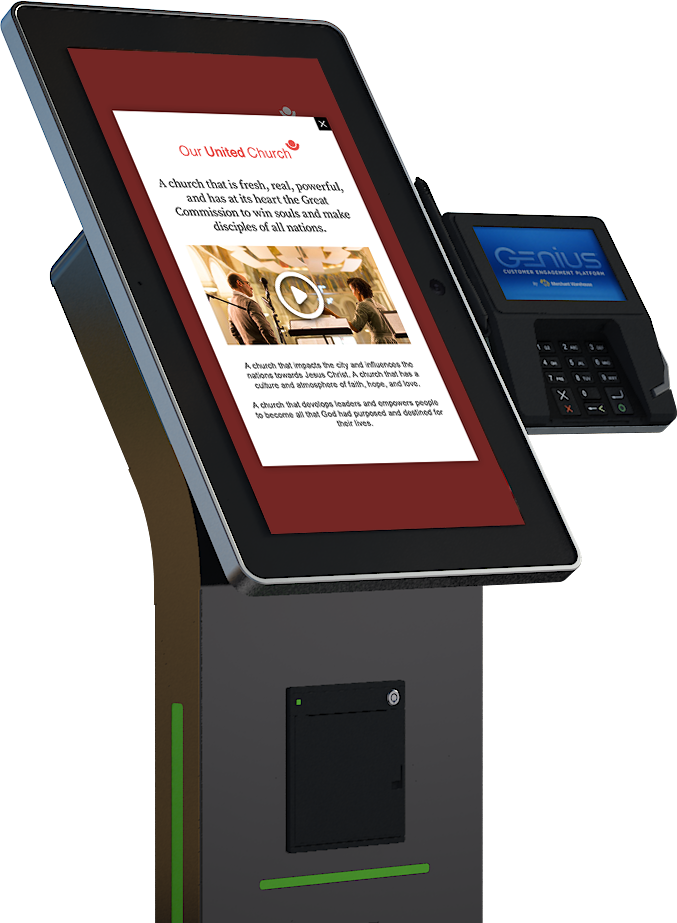 Bridge the Gratification Gap
Scientifically-proven user interface design for the happiest giving experience.
We all know that even a small amount makes a huge difference. We designed the giving interface to be simple, instant and highly gratifying. With some simple customizations you can make sure that your giver understand the value of every contribution, no matter how small.
Your donors will also value each contribution that much more when they get to select specifically which fund or project it goes towards.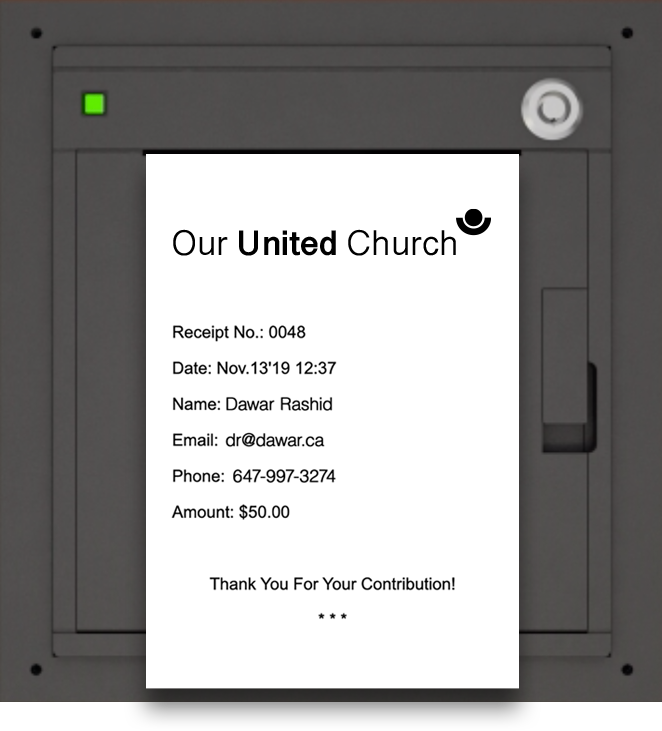 Key Features
Email and Receipt Template
When givers complete their contribution they will receive an email or text message with a thank you message and gift receipt.
This template is fully customizable and can be changed anytime with new and inspirational messaging. Receipts can also be printed directly from the kiosk.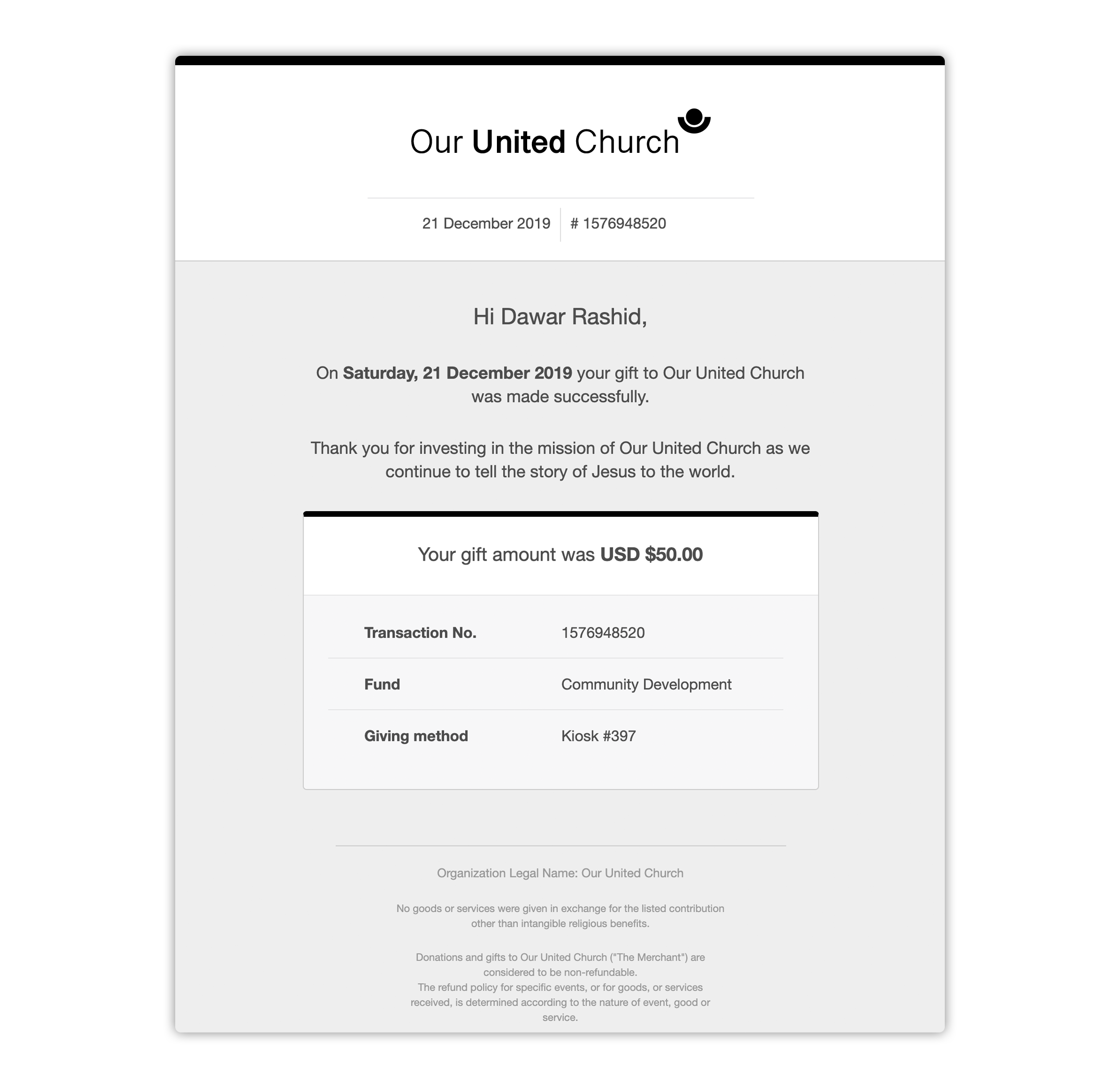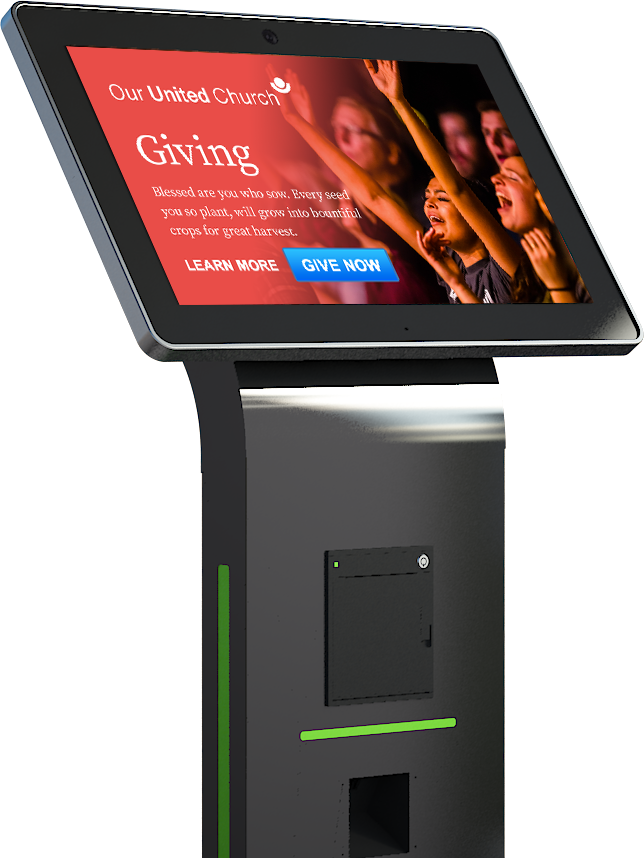 CUSTOMIZATION
Impactful Messaging
Include digital media in your email outreach.
Everything from branding, colors, backgrounds and messaging can be customized anytime quickly and easily.
Add a personal touch by including a video or audio message from your staff thanking your givers for their generous gift.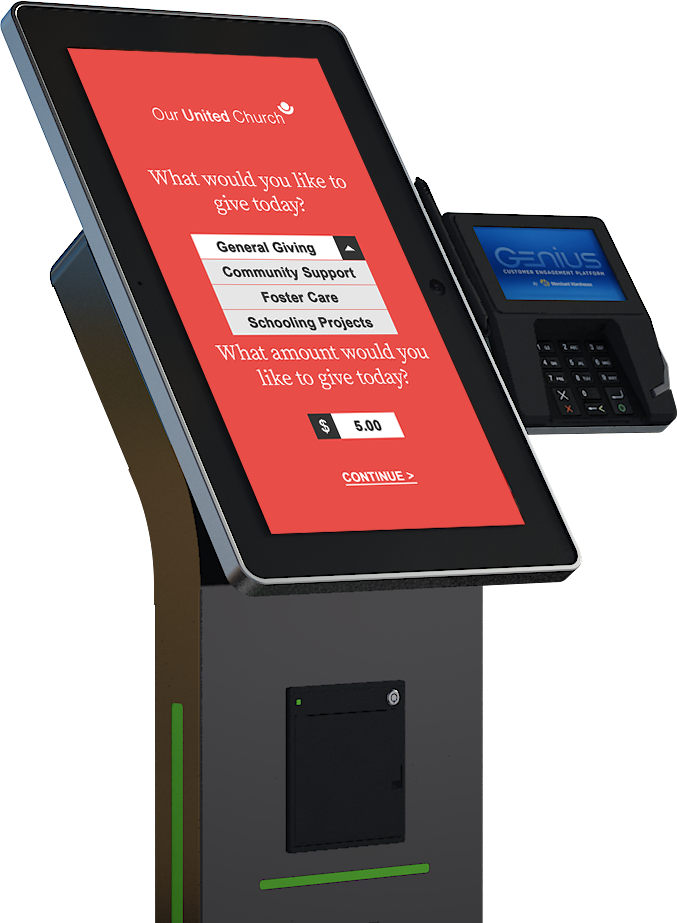 MAXIMIZE DONATIONS
Funds, Projects and Appeals
Instant Touch-and-Select feature for Multiple Funds
Craft a great fundraising strategy using Eflyn custom funds, campaigns and Appeals.
Empower givers to choose exactly where their contribution goes with custom funds and projects. A simple dropdown menu encourages givers to select a particular project or cause they are connected to before giving.
You can easily keep track of total contributions to each fund with our powerful reporting tools.
Reporting and Analytics
Metrics and Reporting Dashboard
Search, filter and sort all your transactions in the reporting database. You can easily customize, view and download reports for reconciliation or import into third-party accounting systems.
Efficiently using givers data is the key to your nonprofit's future growth and sustainability. Doing so will help you not only better understand your existing giving community.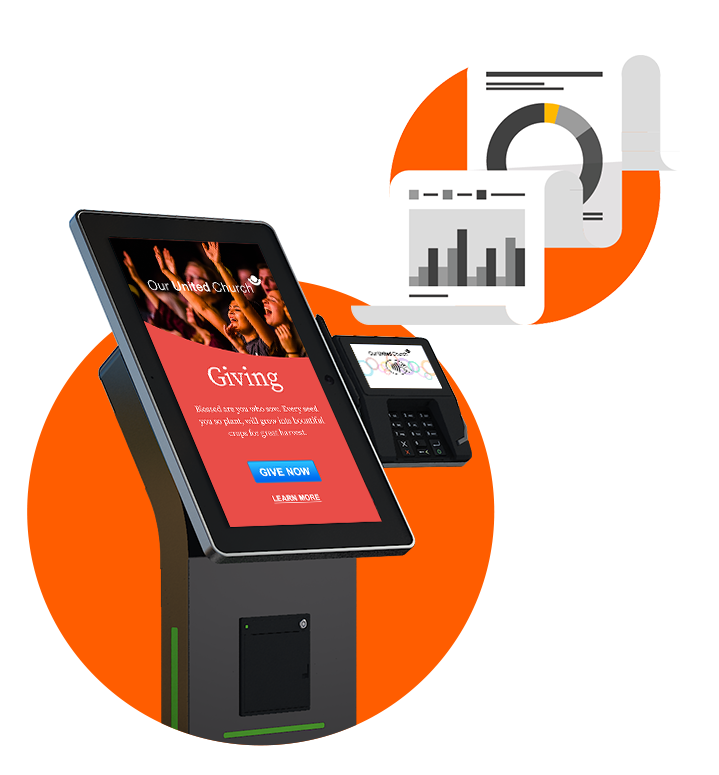 PAIR THE TOP SYSTEM WITH THE TOP KIOSK HARDWARE.
21.5" Multi-Touch Donation Kiosk
Features
21.5" Capacitive Touch Screen
Designed for the best and extremely fast paced environment.
Built-In Windows 10 PC
Fully Licensed Windows Operating System.
Universal Payment Terminal Holder
(EMV & NFC Certifed)
Front Loading Industrial Printer
Help you change paper rolls in seconds.
Lock and Key Cabinet
Completely secure cabinet with lock & key.
Front Loading Printer
The Eflyn front-loading thermal printer is the best solution in the industry for printing receipts.
It supports industry-standard 80mm paper rolls and can easily be reloaded using the front panel, which is secured with a lock and key.
Flexible In Every Way
Universal Pin Pad Mount
Mount any type of payment terminal with our new universal pinpad mount. Supports popular pinpad models such as the Ingenico iPP320/350, Verifone MX-series, TD Generation Pinpads, and many more.
Horizontal Orientation Specifications for 21.5" Donation Kiosk
Full Height: 74.4 inches (1890 mm)
Width: 22.2 inches (565mm)
Height of monitor: 11.29 inches (363mm)
Width of mornitor : 22.2 inches (565mm)
Vertical Orientation Specifications for 21.5" Donation Kiosk
Full Height: 74.4 inches (1890 mm)
Width: 11.29 inches (363mm)
Height of monitor : 22.2 inches (565mm)
Width of mornitor : 11.29 inches (363mm)
Public Safety Approved
Anti-Bacterial Screen Protection
All new Eflyn Self-Order Kiosks come coated with the world's best anti-bacterial screen care. This preventative solution is also water-repellant, anti-radiation, scratch resistant rated for 9H hardness and does not cause any bubbles on the screen.
High Performance Computer
Compact 15.5" or 21.5" Multi-Touch Screen with PC
The new and improved 15.5" or 21.5" Multitouch all in one pc is built with up-to-date components including the latest SSD drives, Intel i5 Processors and faster memory.
The higher performance leads to a more fluid and responsive customer experience, especially for self-order kiosks with lots of images and videos.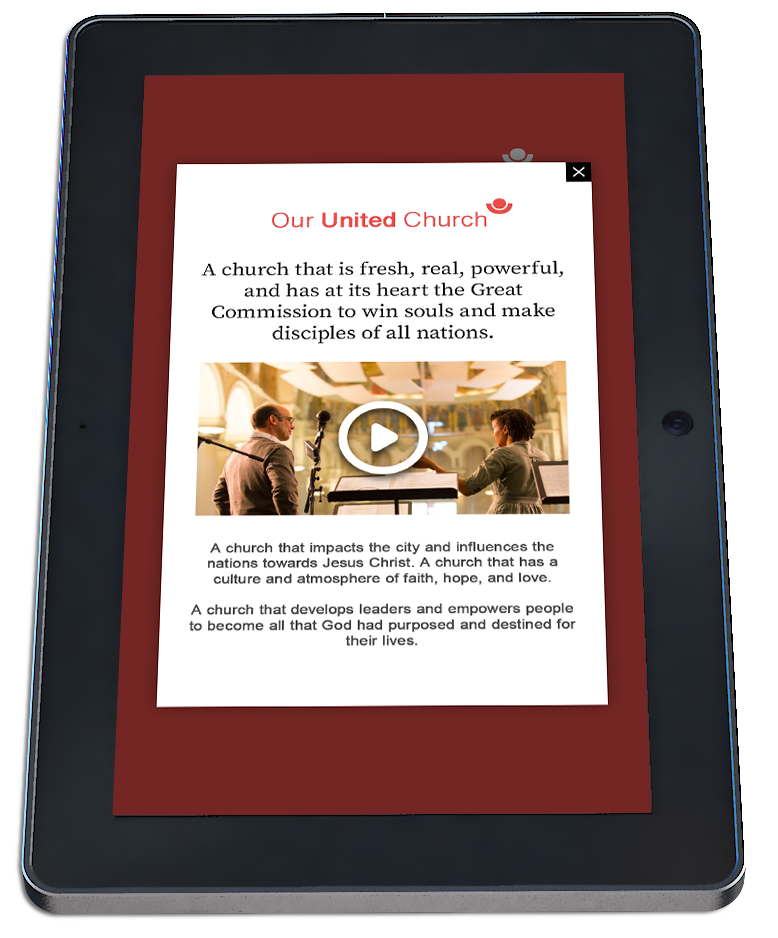 Improved Touch
Improved Multi-Touch Screen with Faster Response Time
The multitouch screen is entirely redesigned to provide a faster response and more accurate touch recognition than ever before.