What the Self Checkout Kiosk with Shopify integration can do for you
Turn your online store into a smart retail location with a self-serve checkout for your customers. Fully supports single or multiple locations and is centrally managed with the ecommerce account you know and love.

Below are 10 short demonstration videos of Eflyn Self Checkout Kiosk integration, including a demo of related products, self-checkout with in-person payments, inventory tracking, universal site-wide search, smart local caching, grab and go with scan and pay feature, infinite page and products scrolling, filter collection by-products, fully integrated product boxes and eflyn spin to win application to entertain your customers and also generate email marketing leads.
Universal Site Wide Search
Contest Marketing with Spin To Win
Fully Integrated Product Boxes
Self Serve Checkout Kiosks for your Retail Store
Check out our other models below
24" Self Checkout Station
Our retail inspired Self Checkout Station 24" Capacitive Touch with Built-in Printer and stainless steel counter for larger shopping requirements
Smart Vending Machine
Eflyn Robomarket Smart Micro Marketing Vending Machine with Shopify Integration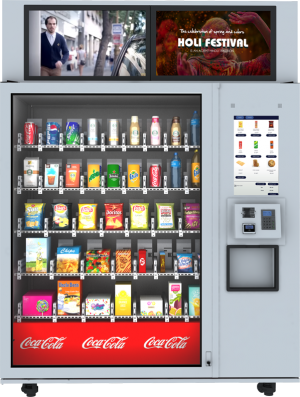 Eflyn Samsung Self Checkout Kiosk km24a
Eflyn Self Checkout Kiosk Solution is now available on the new Samsung Kiosk fully integrated with Shopify