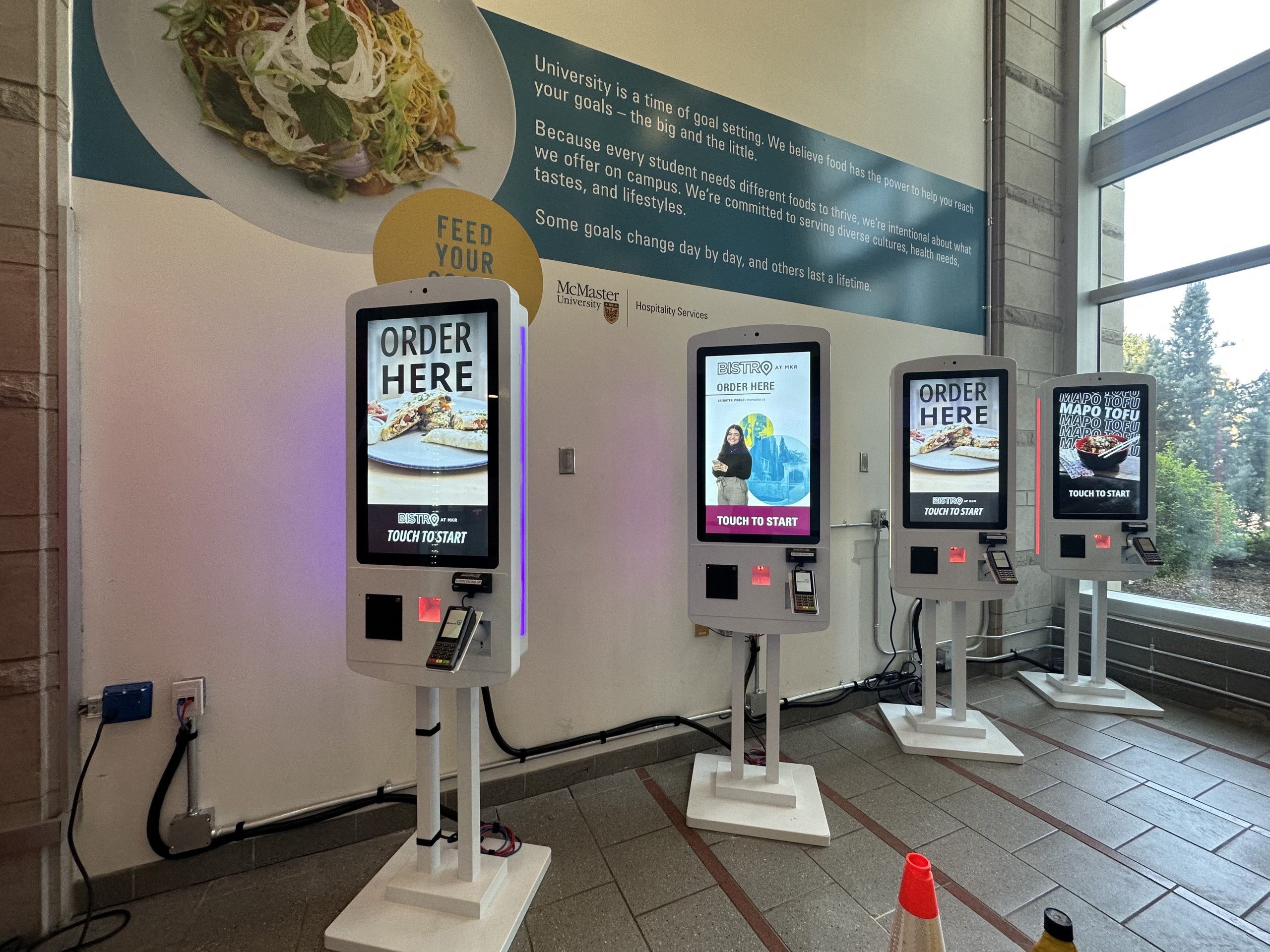 Challenge: McMaster University's vibrant Food & Beverages outlets wrestled with a persistent challenge: serpentine queues of 50-60 patrons during lunch and dinner rushes. The absence of an efficient self-serve checkout option compounded these operational dilemmas.

Solution: Eflyn Self Checkout Kiosks Hardware & Software QuickServe Now
Eflyn's QuickServe Now self-checkout kiosks emerged as the dynamic antidote to these challenges, seamlessly altering the trajectory of McMaster University's culinary landscape. Guided by a resolute commitment to address prevailing issues, QuickServe Now kiosks embarked on a transformative journey, streamlining the order process and orchestrating a symphony of satisfied customers.

Revolutionized Order Management:
The implementation of Eflyn's QuickServe Now heralded a new era of streamlined order management. By weaving a meticulous managed order system into the fabric of the experience, intricately interwoven with the Kitchen Display System (KDS) and order status monitors, the once daunting chaos of order processing was now a precisely choreographed dance of culinary perfection.

Inclusivity, Precision, and Efficiency:
Eflyn's dedication to inclusivity materialized through the introduction of a 21.5″ accessibility kiosk, catering to patrons with diverse mobility needs. This innovative stride mirrored the holistic approach that defined QuickServe Now, where accessibility, precision, and efficiency merged seamlessly.

Navigating a Gastronomic Odyssey:
McMaster University's culinary landscape is a melting pot of flavors, featuring 4 separate kitchens and food pickup stations spanning various cuisines. QuickServe Now's ingenious design harmonized this intricate orchestra, enabling patrons to curate a multi-cuisine odyssey within a single transaction. From tantalizing appetizers to hearty entrees, all were effortlessly funneled to up to 4 distinct prep stations, resulting in a symphony of culinary diversity.

Quenching Thirst, Simplified:
Nestled within this innovation is the ability to satiate parched throats. QuickServe Now embraced McMaster University's partnership with Coca-Cola, allowing students to effortlessly scan, pay, and revel in a selection of beverages from the self-serve drink station. 

OneCard: The Modern Standard:
But perhaps the crowning jewel of this transformation is QuickServe Now's compatibility with the OneCard system, the hallmark of university and college meal plans. This intuitive integration reshaped transactions, infusing convenience, and familiarity into each swipe.
A Vision Manifested:
The ripple effect of Eflyn's QuickServe Now resonates far beyond the confines of a mere dining experience. It's a narrative woven from the threads of innovation and commitment. As the sun sets over McMaster University's campus, the once serpentine queues have transformed into a symphony of efficiency, inclusivity, and gastronomic delight. Eflyn's legacy is etched in the smiles of students, in the orderly dance of kitchens, and in the whispers of a more delightful dining future.
Contact Eflyn today to learn how our innovative solutions can transform your engagement strategies and create impactful experiences.