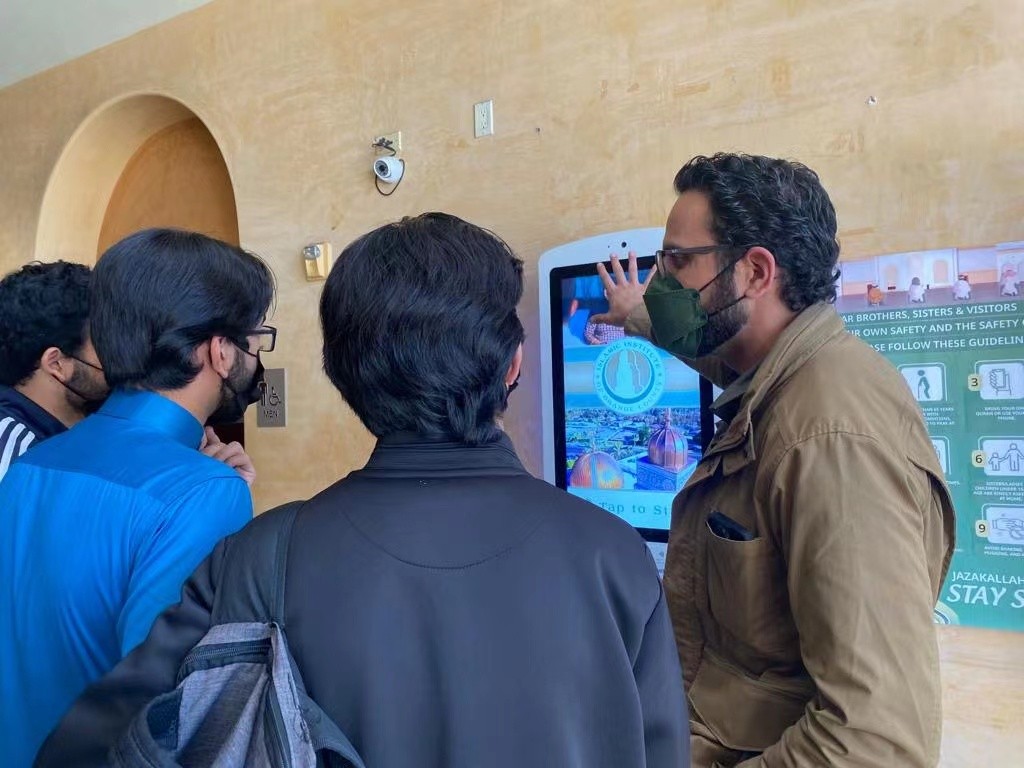 Case Study: Effortless Donations and Enhanced Engagement at IIOC Islamic Institute of Orange CountyIntroduction:
The IIOC Islamic Institute of Orange County, situated in Anaheim, California, has embraced a modern and efficient approach to enhance its donation process. By integrating Eflyn's Giving Kiosks into its operations, the mosque has achieved a seamless and automated solution that has transformed its fundraising endeavors. The utilization of these self-serve kiosks has brought about a paradigm shift in the mosque's donation strategy, enabling an effortless experience for its congregants.
The Challenge:
The IIOC Islamic Institute of Orange County faced a challenge common to many places of worship: the need to facilitate donations throughout the day, even during non-operational hours. With the mosque's extended operating hours, it became evident that a solution was required to cater to the donation needs of congregants when attendants were not available. Furthermore, the institute sought to enhance congregational engagement through interactive experiences and media-rich content delivery.
The Solution:
Eflyn's Giving Kiosks emerged as the ideal solution to address these challenges. The integration of these self-serve kiosks within the mosque's premises allowed for an innovative and automated approach to donations. The kiosks are strategically placed, ensuring accessibility for congregants to make donations at any time. This has not only simplified the donation process but has also made it convenient for individuals to contribute at their convenience.
Unattended Convenience:
The mosque's extended operational hours meant that attendants couldn't always be present to facilitate donations. Eflyn's Giving Kiosks filled this gap by providing an unattended yet highly secure channel for congregants to donate. This autonomy resonated well with the mosque's congregation, as it offered a comfortable and private environment for making contributions.
Streamlined Engagement:
Beyond facilitating donations, Eflyn's Giving Kiosks have offered the IIOC Islamic Institute of Orange County an avenue to engage with its congregants effectively. The built-in events calendar and digital signage capabilities have transformed the kiosks into interactive hubs of information. Mosque staff can effortlessly update content, including media-rich campaigns and interactive touch screen ads, keeping the congregation informed and engaged.
Results and Benefits:
The integration of Eflyn's Giving Kiosks has yielded remarkable results for the IIOC Islamic Institute of Orange County. Congregants now have the flexibility to donate at their convenience, irrespective of the operational hours. This enhanced convenience has fostered a positive donation experience, contributing to increased participation. Additionally, the interactive capabilities of the kiosks have facilitated effective communication, leading to enhanced engagement and congregation awareness.
Conclusion:
The IIOC Islamic Institute of Orange County's adoption of Eflyn's Giving Kiosks showcases how modern technology can seamlessly blend with traditional practices to enhance the donation experience. By providing an automated and unattended donation solution, along with interactive engagement tools, the mosque has not only streamlined its fundraising efforts but has also nurtured a stronger connection with its congregation. The success of this initiative serves as a testament to the potential of innovation in transforming the operations of places of worship.