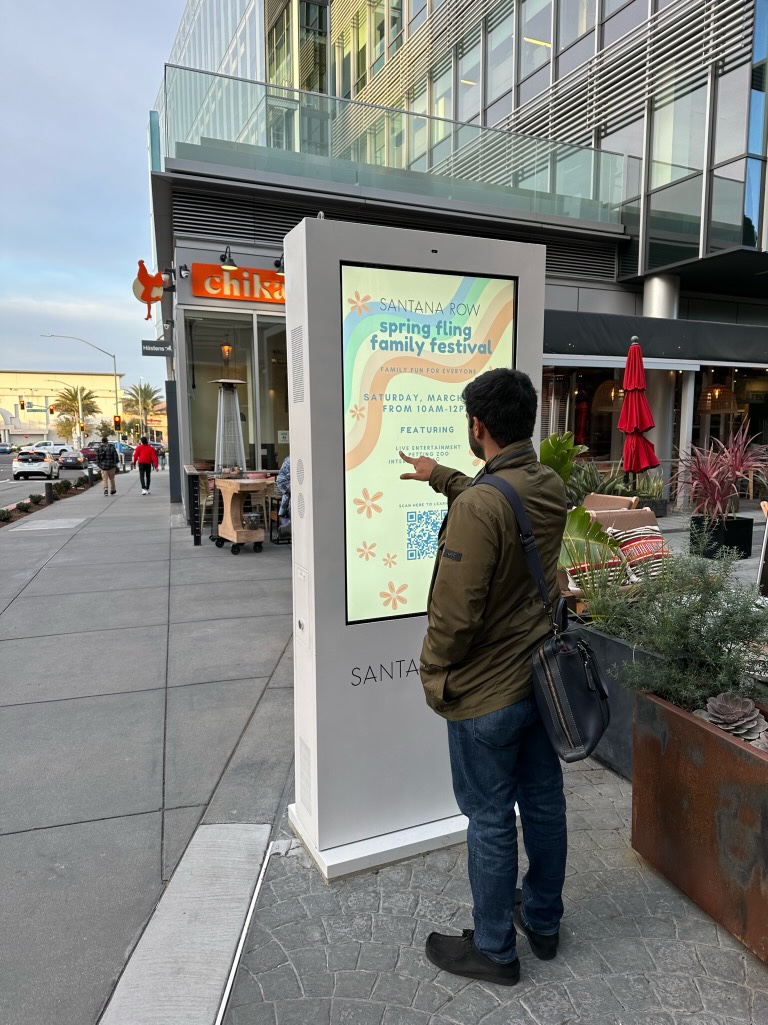 Challenge: Santana Row, an upscale shopping and dining destination in San Jose, sought to enhance its visitor experience and boost revenue through cutting-edge technology. They were looking for a solution that would not only provide wayfinding assistance but also create an interactive and engaging atmosphere for their patrons.
Solution:
Eflyn stepped in with an innovative approach. They introduced a state-of-the-art Dual Screen 55″ Outdoor Touch Screen Digital Signage system, featuring a robust touch screen wayfinding system and cloud-based signage for interactive advertising. This comprehensive solution promised to transform Santana Row into a more dynamic, lively, and revenue-generating center.
Implementation:
Eflyn meticulously installed and integrated the dual-screen digital signage system throughout Santana Row. The touch screen wayfinding system made navigation effortless, helping visitors find their desired destinations quickly and efficiently. The cloud-based signage allowed for interactive advertising, enabling businesses at Santana Row to showcase their products and promotions dynamically.
Results:
The impact of Eflyn's solution was immediate and profound. Santana Row experienced a surge in foot traffic as visitors embraced the ease of navigation and engaged with the interactive advertisements. The center became a hub of activity, breathing new life into the environment and enhancing its aesthetic appeal.
Client Satisfaction:
The client was not only pleased but thrilled with the results. The Eflyn solution not only met but exceeded their expectations. They reported a significant increase in customer satisfaction, and businesses at Santana Row were taking full advantage of the cloud signage advertising platform, leading to a substantial boost in revenue.
Conclusion:
Eflyn's Dual Screen 55″ Outdoor Touch Screen Digital Signage, coupled with a cutting-edge wayfinding system and interactive cloud signage, revitalized Santana Row San Jose. The project was not just a success; it was a transformation, turning Santana Row into a dynamic and revenue-generating destination.
This case study showcases how Eflyn's innovative solutions can revolutionize outdoor digital signage, delivering tangible benefits to both clients and their customers.
Contact Eflyn today to learn how our innovative solutions can transform your engagement strategies and create impactful experiences.