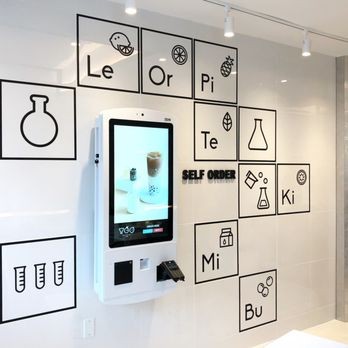 Introduction:
Running a successful bubble tea business involves a delicate balance of satisfying customer cravings, managing operations efficiently, and boosting profits. In this competitive industry, achieving all these goals can be a challenging feat. However, there's a game-changing solution that is transforming the landscape of bubble tea establishments – Eflyn's Self-Checkout Solution.
Section 1: A Transformative Solution
In the world of bubble tea, success hinges on efficiently handling the intricate dance of flavors, customizations, and customer preferences. Eflyn's Self-Checkout Solution is designed to revolutionize this process. For many, bubble tea is an art form, a delicate fusion of flavors, textures, and choices. However, managing these choices efficiently can be a daunting task, often leading to longer wait times and overwhelmed staff. Eflyn steps in as the maestro, orchestrating a symphony of efficiency and convenience.
Section 2: Seamless Ordering and Upselling
Imagine a scenario where your customers can craft their own perfect bubble tea without the complexities of a traditional cashier-based order system. With Eflyn's Self-Checkout Solution, this becomes a reality. Customers can effortlessly select their tea, toppings, sweetness level, and more, all through an intuitive touch-screen interface. But the true magic lies in the upselling opportunities this system unlocks.
Eflyn's Self-Checkout Solution enables dynamic upselling through features like BOGO (Buy One Get One), Coupons, and Specials. The result? An increase in average ticket size by up to 20%. Customers are enticed to explore new flavors, indulge in extras, and ultimately, spend more.
Section 3: Digital Signage for Promotion
Visual appeal plays a pivotal role in attracting customers and enticing them to try new items. Eflyn's Self-Checkout Solution incorporates digital signage to help you effectively promote your menu items and specials. This captivating digital display isn't just eye candy; it's a potent marketing tool. Use it to showcase your latest offerings, daily specials, or even educate customers about the art of bubble tea.
Section 4: Data-Driven Decision Making
In the modern business landscape, data is king. Making informed decisions based on real-time data can be a game-changer. Eflyn's Self-Checkout Solution provides comprehensive sales reporting, giving you valuable insights into customer preferences, peak ordering times, and popular menu items. Armed with this data, you can tailor your offerings, marketing strategies, and staffing to maximize efficiency and profits.
Section 5: Customer Loyalty and Engagement
The key to success in the bubble tea business isn't just attracting customers; it's keeping them coming back for more. Eflyn's Self-Checkout Solution contributes significantly to customer loyalty and engagement. Younger generations, in particular, prefer self-service options, and this system caters to that preference.
Additionally, Eflyn offers the SpinToWin Gaming App, an ingenious way to engage customers and generate email leads. After placing their order, customers can participate in this interactive game, adding an element of fun and excitement to their visit. The result? A growing list of engaged customers who are more likely to return.
Section 6: ROI – A Game-Changer
Investing in Eflyn's Self-Checkout Solution isn't just an expense; it's a strategic investment with impressive returns. The potential ROI is a game-changer for bubble tea businesses. By increasing the average ticket size, reducing wait times, and streamlining operations, this solution unlocks new levels of profitability. It's not just about selling bubble tea; it's about making each sale count.
Section 7: End-to-End Support
Eflyn understands the importance of reliable support in the fast-paced world of bubble tea. That's why they offer 24/7 support, 365 days a year. There are no long waits or frustrating automated prompts. A quick email to support@eflyn.com is all it takes to get the assistance you need. This unwavering support ensures that your Self-Checkout Solution operates seamlessly, day or night, so you can focus on delighting your customers.
Conclusion:
In the realm of bubble tea businesses, Eflyn's Self-Checkout Solution emerges as a transformative force. It simplifies complex orders, fuels upselling opportunities, enhances customer engagement, and provides data-driven insights. With a potential ROI that's nothing short of remarkable, this solution empowers bubble tea establishments to thrive in a fiercely competitive industry. Don't just serve bubble tea; elevate the experience with Eflyn.