A Complete Solution For All Restaurants, Big or Small.
Say hello to the most powerful self order restaurant solution on the market.
Software solution starting at $29/month. Hardware available as add-on option.
Did you know 66% of consumers prefer self-service technology?
Give your guests control over their restaurant experience with the choice to order at a self order kiosk. Eflyn Self Order Software App and Payment Solution allow your customers to place orders on an interactive 32" capacitive touch screen kiosk with the simple tap of a finger.
The Self Order Kiosk App is intuitive with a smart, user-friendly UI.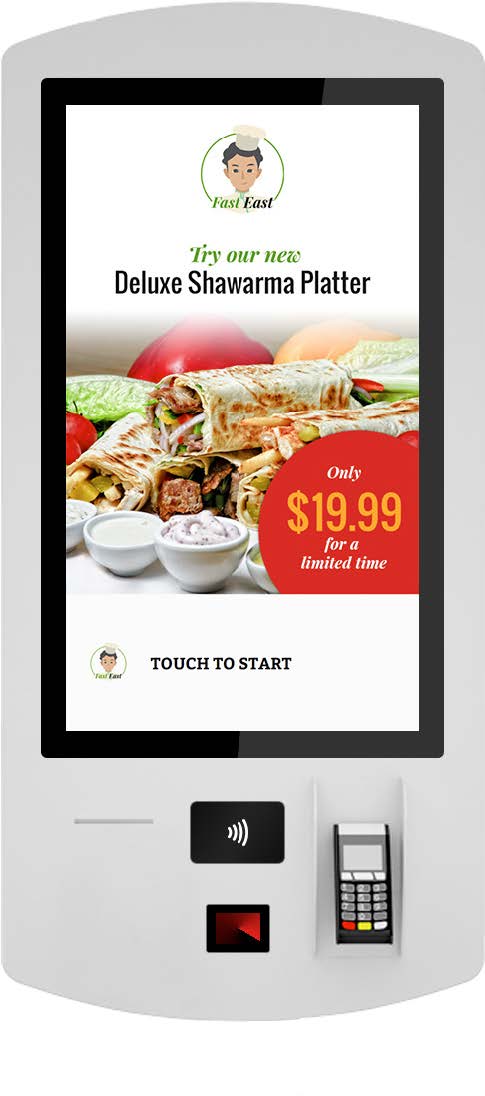 Start with Promotions
Start screen has a built-in screensaver for quick promotions and deals.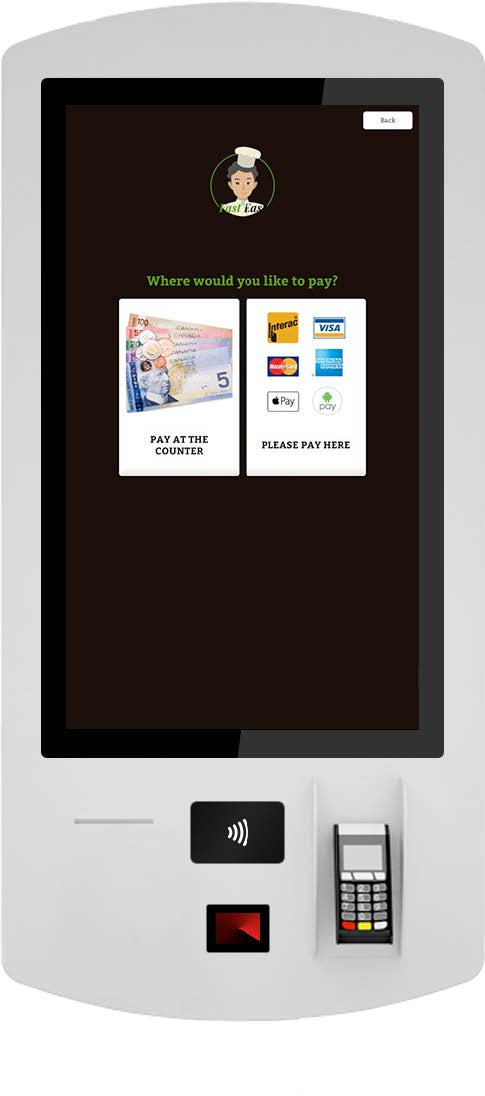 Multiple Payment Options
Pay with debit, credit, Apple Pay, Android Pay, gift card or even cash at the counter.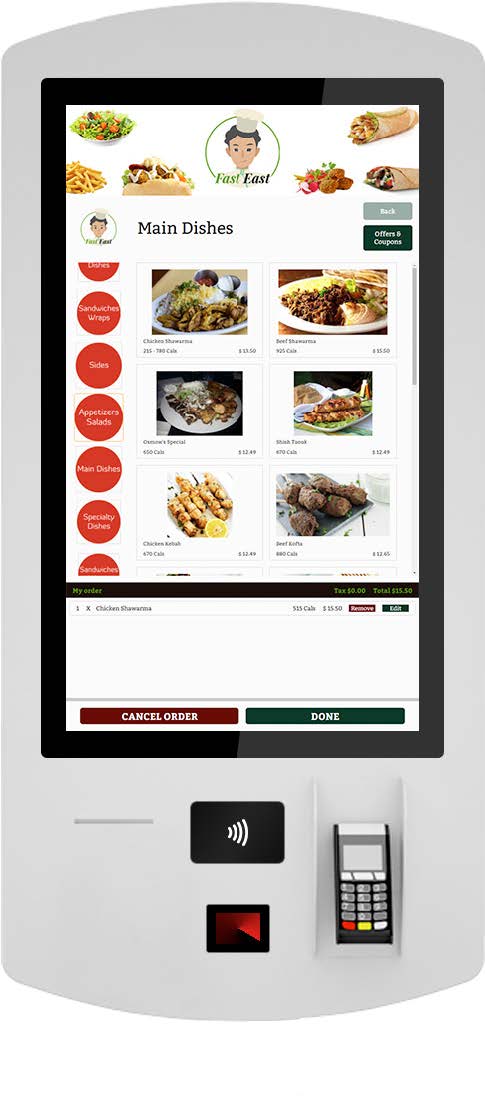 Quick and Easy Menus
Arrange items in multiple menus and combos. Details like total calories also shown.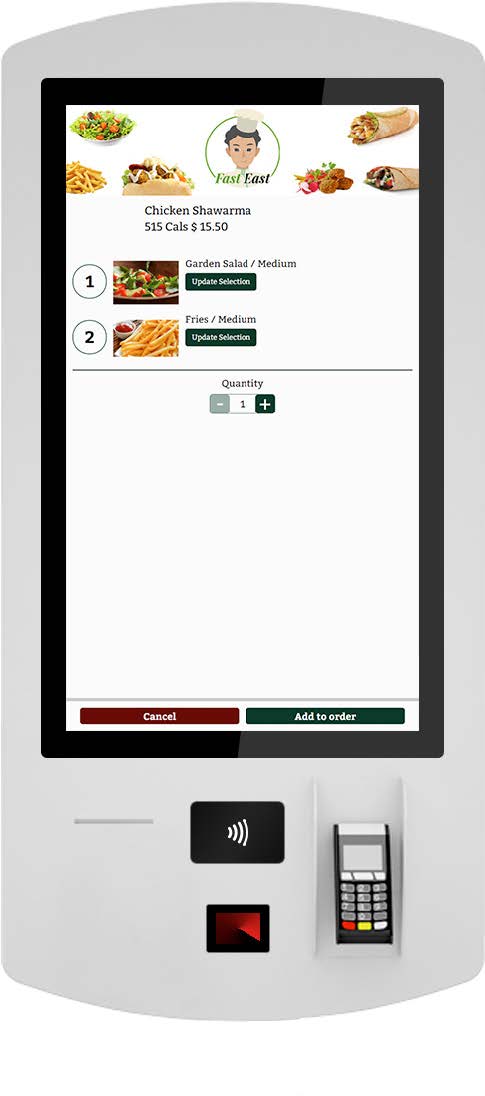 Combo Selection
Customers can build their own combos with a variety of options and upsells.
SELF ORDERING KIOSKS FOR RESTAURANTS AND RETAILERS
Check out our line of high-end single and dual-sided self order kiosks. Comes with the latest hardware and backed by Eflyn's comprehensive servicing and support.
SEE THE HARDWARE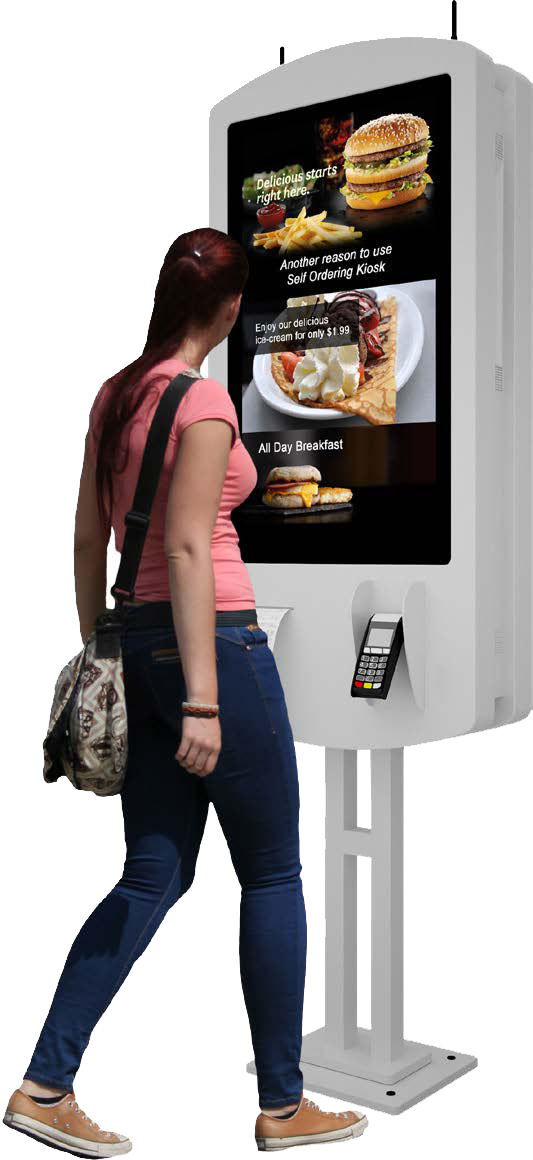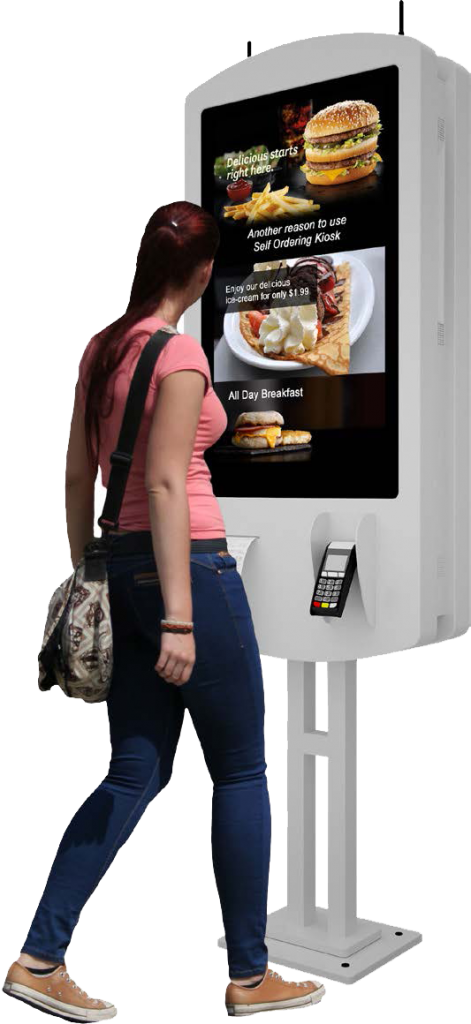 POS Integrations
Built-in support for the most popular POS systems.
Eflyn's Self Order Kiosk support the most popular POS systems around, so deployment and integration is quick and easy. And with more POS systems being added on the way, we're sure to support your system soon. Currently, Eflyn Self Order Kiosk System supports the following popular POS systems.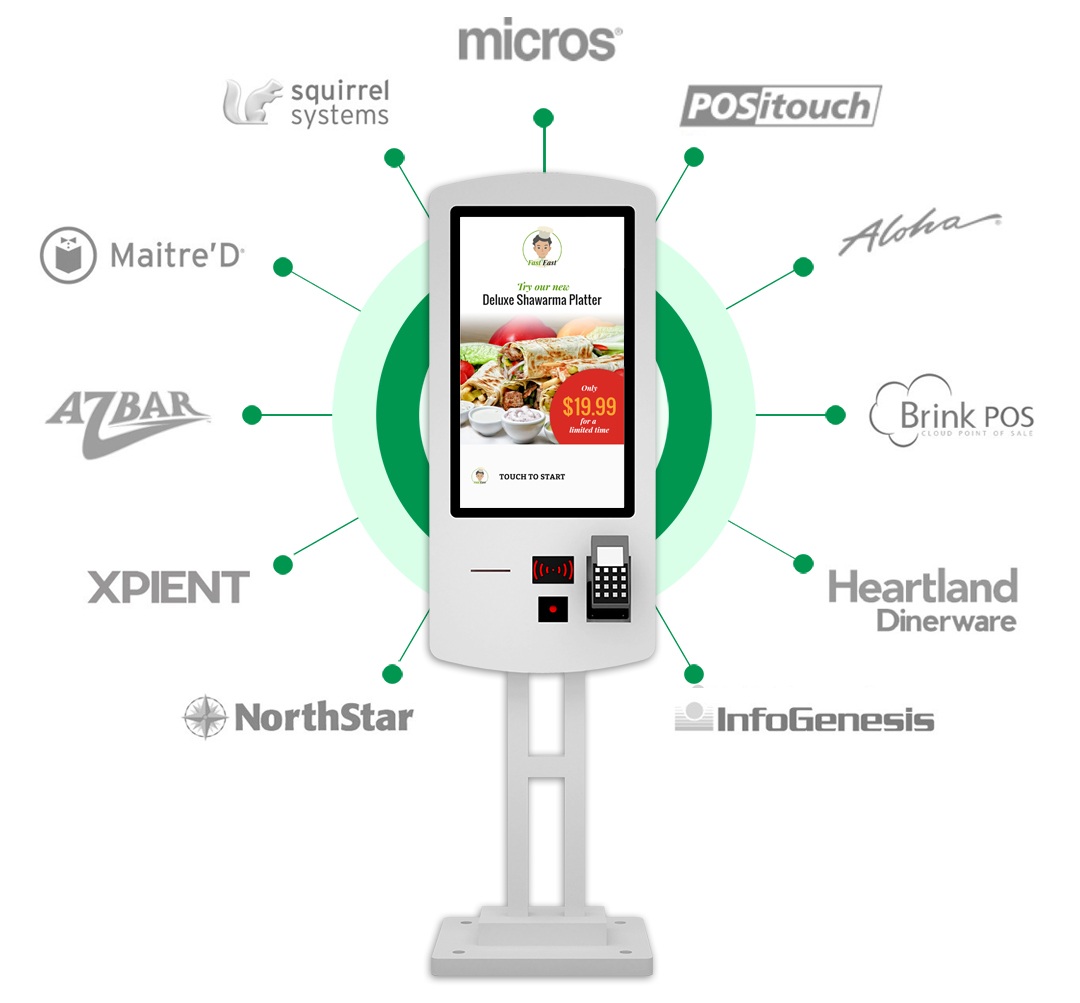 IMPROVE YOUR SALES
Real Built-In Strategies to Increase Sales
A popular fast food chain that recently introduced self-order kiosks found "a 20 percent higher average ticket being placed at the self-service kiosk versus the counter." Eflyn Self Order comes with many incredible tools for increasing your sales, from automatic upsells and suggested combos, delicious-looking images and video ads, and a complete built-in coupon system.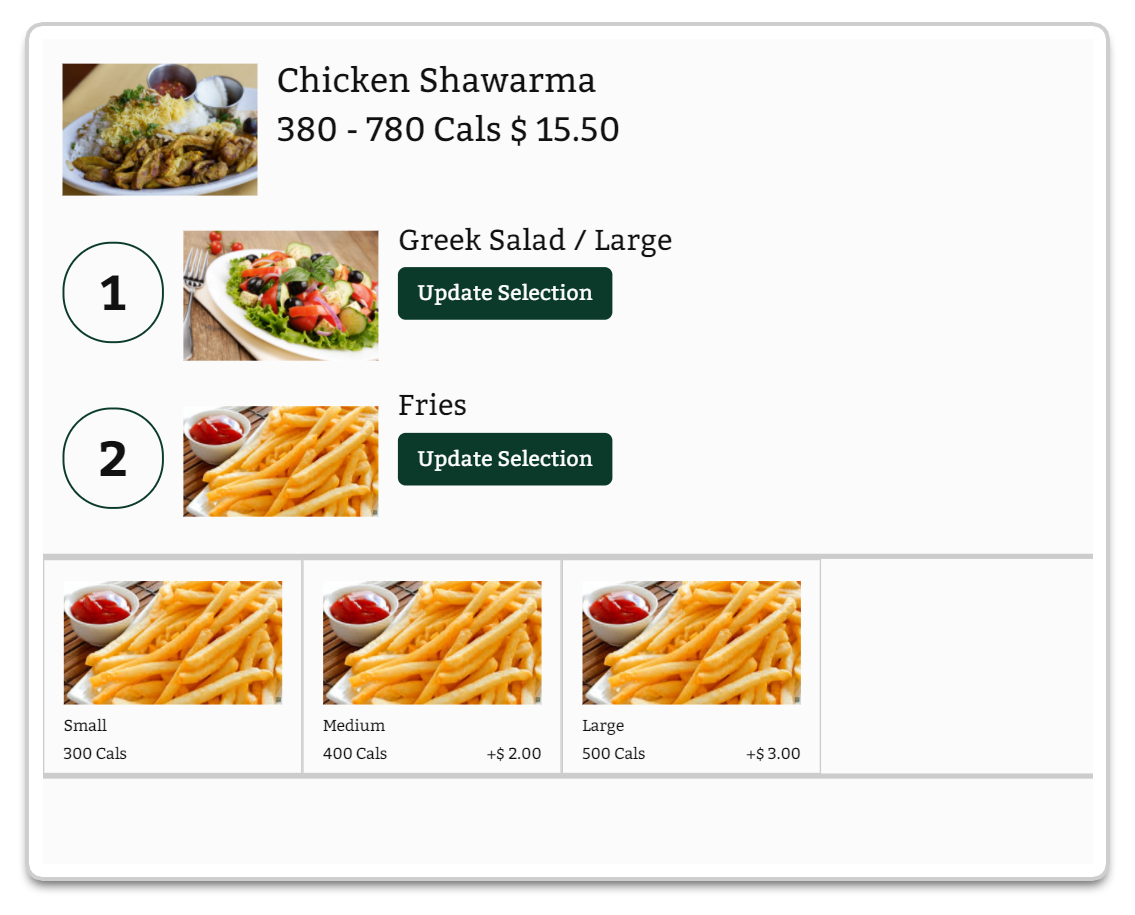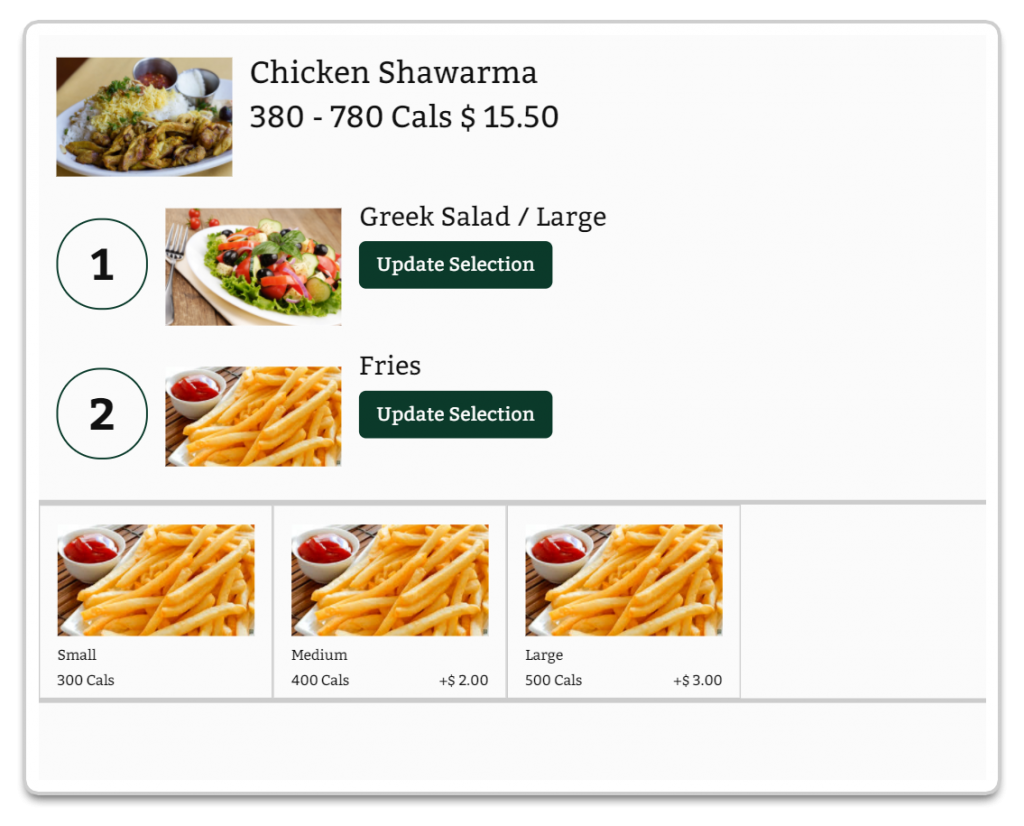 No Transaction Fees or Charges
Built-In Digital Coupon System
Compatible with multiple POS Systems
Automatic Upsells and Suggestions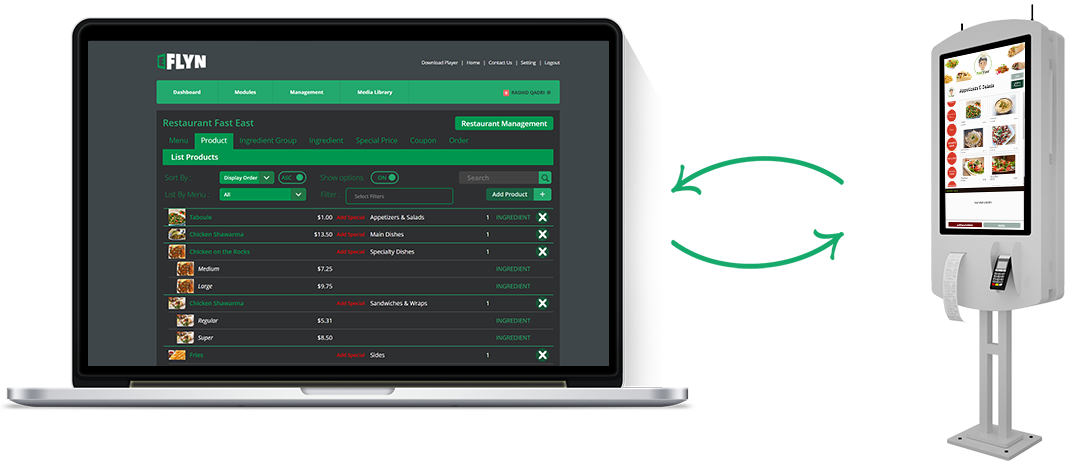 Synchronized Changes
Updating your menu is as easy as checking e-mail.
Whether you need to add a new menu item, create a promotion or just update pricing, it's never been easier than with the Self Order Back Office. Simply login from any smartphone or tablet to update the system. Any changes you make will instantly sync with your kiosks like magic.
And with POS integration, you just keep managing your system as you've always done and the self-order kiosk will automatically update its menu and pricing automatically.
The Self Order Kiosk App is intuitive with a smart, user-friendly UI.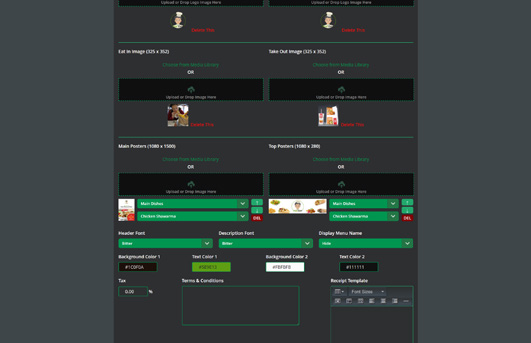 Customize the Look
Change the look of your self-order kiosk with branding, logos, colors and more.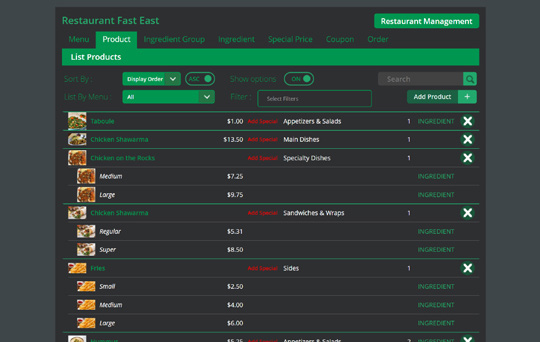 Products and Ingredients
Add any # of products to your kiosk and customize with ingredients & upsells.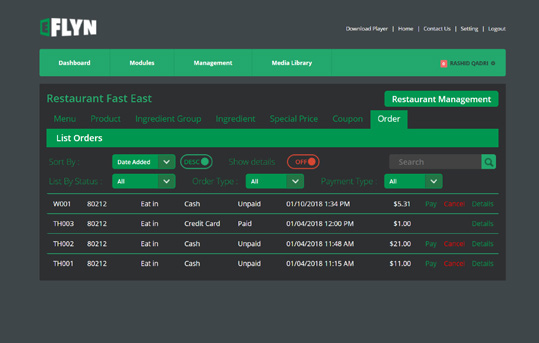 Order History and Analytics
Instantly see your most popular products, order data and history of purchases.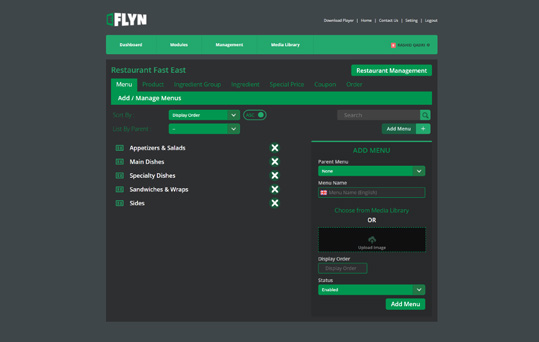 Create Multiple Menus
Menus let you organize products into appetizers, mains, salads, etc.
The Self Order Kiosk is loaded with useful features…
Customize the UI
Easyfind's UI is fully customizable with your branding.
Multi-language Support
Your guests can view the entire menu in their preferred language. The Back Office is also multi-lingual.
Combos and Recommendations
Easily create combos. Upsell additional menu items. Promote "Best Recommendations
Structured Digital Menu Catalog
Build your own Interactive menu. Set item categories & subcategories. Create & show multiple menus easily.
Digital Signage Advertising
Upload Graphics to looping slider. Schedule & modify your ad content. Play videos of food being prepared.
Manage Menu Item Details
Add descriptions, images, nutritional info and more. Edit selections, food modifiers and pricing options.
Special Offers and Happy Hour
Highlight daily, weekly or seasonal specials. Schedule automated promotions and discount codes.
Receipt Printing
Print receipts with built-in thermal printer. Configure Remote Printers with Google Cloud Print.
Tax Rates
Set applicable taxes to food categories. Auto Calculates the Tax. Rate in Order Summary Screen
Order and Pay at the Kiosks
Secure payment processing. Tap & Go with debit/credit terminal. Option to pay at counter or kiosk.
Coupons and Payment Options
Supports coupons and loyalty cards. Integrates your payment gateway. Reloadable campus card support.
Eflyn Support
24/7/365 remote technical support. Regular updates pushed directly to your kiosk for security and features.
Kitchen Order Management
Automatically sends orders to your Kitchen Display Unit. Call waiter and request bill feature built-in.
Mobile Apps Available
Your Easyfind can also be made available as a mobile app.
Analytics & Reports
Order History Management. Advanced Analytics for top sellers, least ordered and kiosk usage.
Accessibility Mode
Visitors with disabilities can use Self-Order Kiosk with Accessibility Mode.
…and many more!
Meet with an Eflyn Specialist
Bring the power of digital engagement to your business
Want to learn about digital signage? How about self-serve kiosks or setting up your own video wall? Learn from one of our digital engagement experts about the latest in interactive display technologies and software.